Cristiano Ronaldo's bombshell revelatory tell-all interview with Piers Morgan has given Manchester United a major headache.
United say they will wait until the full facts are established before deciding on action against the ageing Portuguese footballer.
In a television interview, the 37-year old claimed he didn't respect manager Eric Ten Hag, and said the club had stagnated.
"I don't have respect for him because he doesn't show respect for me," Ronaldo said. "If you don't have respect for me, I'm never gonna have respect for you."
The forward's told TalkTV he feels "betrayed", and that he's being forced out of Old Trafford – despite asking to leave last summer.
"Yes, not only the coach but another two or three guys there around the club. I felt betrayed."
When Morgan asked again if he thought United were trying to get rid of him, Ronaldo added: "Honestly, I should not say that – I don't know. But listen I don't care. People should always listen to the truth. Yes I felt betrayed and I felt that some people don't want me here, not only this year but last year too."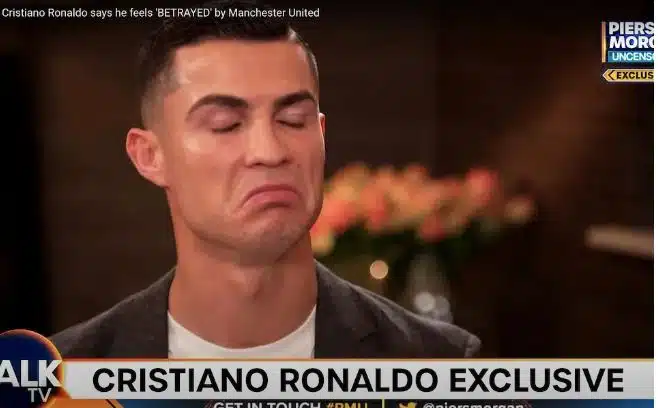 The full interview is due to be broadcast this week, at which time United will consider their response.
The Red Devils were unaware that the interview had been made until yesterday and the timing is crucial given Ronaldo has not been available for the club's last two games due to illness and is now away at the World Cup.
Given Ronaldo says he has no respect for manager Erik ten Hag, who has the total backing of his club, the 37-year-old's future is certain to be elsewhere other than Old Trafford.
Manchester United have released a statement in response to Cristiano Ronaldo's interview with Piers Morgan….
Manchester United notes the media coverage regarding an interview by Cristiano Ronaldo.
The club will consider its response after the full facts have been established.
Our focus remains on preparing for the second half of the season and continuing the momentum, belief and togetherness being built among the players, manager, staff, and fans.