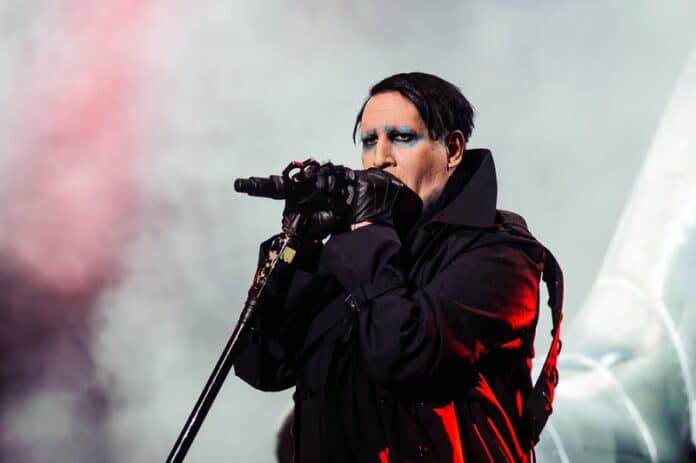 Marilyn Manson's former personal assistant, Dan Cleary has sided with Evan Rachel Wood in her allegations against the rockstar. Evan Rachel Wood along with four other women made have made allegations of abuse against Manson.
Since then, other women, including Game of Thrones star Ésme Bianco have accused Manson of abusing them. Other equally sordid allegations have been made against the star, including forcing female fans to strip for him. These allegations have also been backed by other stars.
It was also confirmed today that the Los Angeles Sheriff's department are investigating allegations of domestic violence against Manson from 2009 to 2011.
"Her whole like aura just became darker"
Dan Cleary worked as a keyboard tech for Manson's touring crew. He then went on to serve as his personal assistant between 2014 and 2015.
Cleary also claimed that Evan Rachel Wood's distress suffered at the hands of Manson, was there for all to see.
"Her demeanour changed", Cleary explained. "Her physical looks changed. She got skinnier. She got her whole like aura just became darker".
Cleary also expressed his guilt as he felt he failed to help Rachel Wood.
"I mean, I spoke to his manager about it, but the manager seemed to know all that and didn't really care a lot".
Cleary added, "There's people saying that I'm complicit because I saw this stuff happening and I didn't do anything and I'll accept that. There is some truth in that".
"Brainwashed and manipulated into submission"
Evan Rachel Wood who was engaged to Manson until their split in August 2010, named Manson as her abuser earlier this month.
Wood wrote, "He started grooming me when I was a teenager and horrifically abused me for years,".
She continued, "I was brainwashed and manipulated into submission. I am done living in fear of retaliation, slander, or blackmail. I am here to expose this dangerous man and call out the many industries that have enabled him, before he ruins any more lives. I stand with the many victims who will no longer be silent".
Since Wood and these women have alleged abuse against Manson, he took to Instagram to deny these claims. He called them "horrible distortions of reality".
In light of these allegations, Loma Vista have also dropped him from their label along with various television shows, including American God and Creepshow Anthology.
His streaming figures for his back catalog have still increased, despite these abuse allegations. His track "Dont Chase The Dead" did fall off Billboard's Mainstream Airplay Chart after 12 weeks, having been Number 34 on the charts last week.