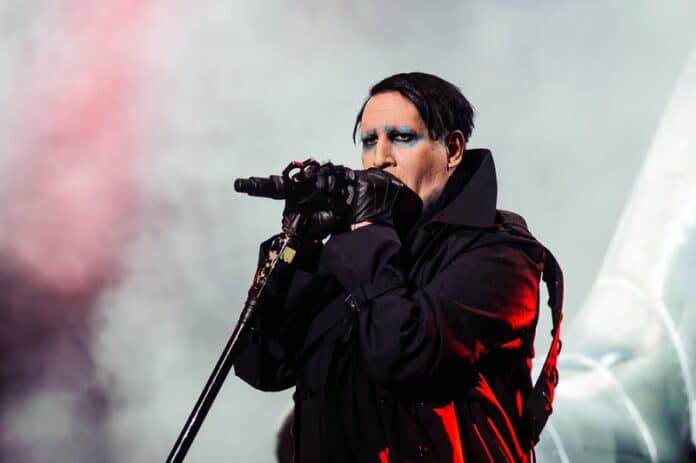 Despite recent allegations of abuse made against him, Marilyn Manson's streaming figures for his back catalogue have increased.
Billboard reported an increase in on-demand streams to 4 million, and increase of 7%. Manson's digital sales have also increased by 40% to 2,000.
However, Manson's latest track "Don't Chase The Dead" has fallen off Billboard's Mainstream Airplay Chart after 12 weeks. It had been Number 34 on the charts last week.
Recent allegations:
This all comes after, his former partner, Evan Rachel Wood along with four other woman accused the rocker of abusing and grooming them. The musician denied these claims.
Yesterday, Marilyn was also accused of forcing female fans to strip their clothes off for him after a concert. This incident is alleged to have taken place after a gig in Glasgow's SECC arena. You can see that report here.
As well as this, Wolfe Alice's Ellie Rowsell accused Manson of attempting to film up her skirt, without her consent, when they met a music festival.
In the first of two tweets, Rowsell wrote, "Solidarity to Evan Rachel Wood and those calling out Marilyn Manson. It's sad to see people defending him, just because he put his depravity in plain sight doesn't give him a free pass to abuse women?!"
She then wrote about the incident involving Manson, "I met Marilyn backstage at a festival a few years ago. After his compliments towards my band became more and more hyperbolic I became suspicious of his behaviour. I was shocked to look down and see he was filming up my skirt with a gopro".
Since these allegations were made against Manson, his record label Loma Vista also ended their association with the rocker. Various TV networks dropped Manson from various show appearances, including US TV network, Starz.
Former collaborators have also condemned Manson, including Nine Inch Nail's Trent Reznor and Limp Bizkit's Wes Borland.
Manson denies allegations:
Manson has continued to deny the allegations made against him.
He wrote, "My intimate relationships have always been entirely consensual with like-minded partners. Regardless of how and why others are now choosing to misrepresent the past, that is the truth".