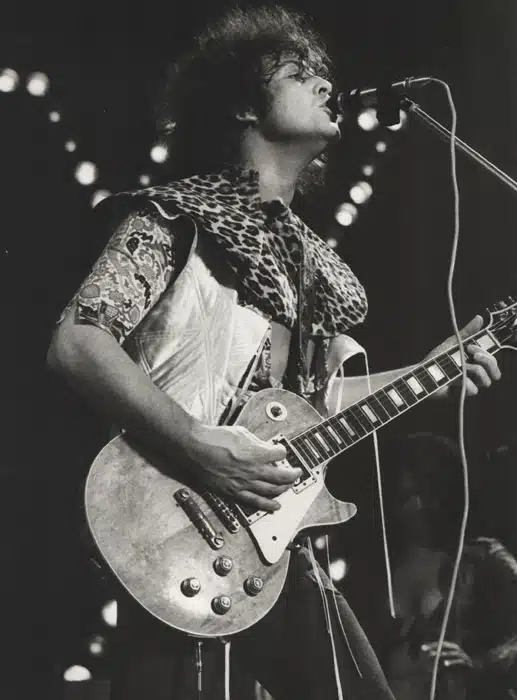 British rocker Marc Bolan, the most glamourous of all the glam rockers, is to be honoured by the American Rock and Roll Hall of Fame on Saturday 7th. 43 years after his tragic death in a car crash at age 29, the man who is widely credited with having started the glam rock movement will be, along with T-Rex, inducted into the Hall of Fame by his friend and collaborator Ringo Starr.
Producer Tony Visconti, who later went on to work with Bowie, said, after Bolan's death, "What I saw in Marc Bolan had nothing to do with strings or very high standards of artistry; what I saw in him was raw talent. I saw genius. I saw a potential rock star in Marc – right from the minute, the hour I met him."
Bolan started the band, formerly called Tyrannosaurus Rex with a few mates. He later pared the band down to just himself and drummer Steve Peregrin Took. Took was later replaced by Mickey Finn. Bolan began what would prove to be a genius move towards a more heavy electric sound, releasing the single 'Ride a White Swan' to great acclaim. He performed the hit single on Top of the Pops in 1971, wearing a satin sailor suit and glitter on his cheekbones. He shortened the band's name to T.Rex and a star was born.
An array of iconic hits like 'Hot Love' and 'Get It On' followed. Bolan became rock royalty, hanging out with the Beatles and Bowie. He expanded the band to include bassist Steve Currie and Bill Legend.
After leaving Fly Records after a spat over their release of a single without Bolan's permission, EMI gave T.Rex their own record label, T.Rex Wax Co. The band fell apart in the mid-70s. Marc was given his own TV show by Granada Television. Each episode of Marc featured new bands and Bolan himself performed his own work. The last episode of the show featured Bowie and himself dueting on 'Heroes'.
Bolan was travelling home from a night out with his girlfriend Gloria Jones in her Mini 1275GT on September 16th 1977. The car struck a tree. Bolan died instantly. Jones suffered broken bones. Bolan refused to learn to drive himself as he feared he would die young in a car crash. The site of the crash is now a shrine to Bolan. The T.Rex Action Group maintains the shrine to this day.
Bolan's funeral was attended by the greats of rock, including his friend and glam rock rival David Bowie. Bolan is seen as a major influence on guitar-based rock. Johnny Marr cites Bolan as his earliest influencer.
Tomorrow evening, Bolan will finally be recognised as one of the rock world's greats.