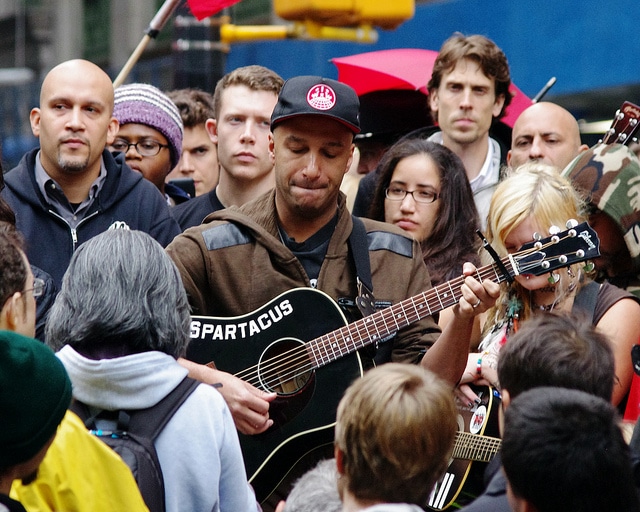 Rage Against The Machine singer Tom Morello has debuted a new track 'Marching On Ferguson'.
The song, performed under the guise of The Nightwatchman, was first played at the Jail Guitar Doors' Rock Out! Benefit at Los Angeles' Ford Theatre on September 5th.
The track clocks in at just two minutes and features Morello playing with a three-piece band. The protest single's title refers to the recent shooting in Ferguson, Missouri, where unarmed teenager Michael Brown was shot dead by a policeman.
Against death penalty but if instituted 4killer cops, corporate criminals &presidents who go to war under false pretense might be deterrent?

— Tom Morello (@tmorello) August 11, 2014
Jail Guitar Doors is a foundation originally set up by Billy Bragg and brought to the US by The MC5's Wayne Kramer to help rehabilitate prisoners using musical instruments. The benefit was the charity's second annual event in America and featured White Fence, Tim Robbins and a number of others alongside Morello.
Earlier this year, Morello revealed that he was working on a solo album, his last release as the Nightwatchman came with 2011's World Wide Rebel Songs. The singer says the album is Jimi Hendrix inspired, "I want to make the craziest guitar record that anyone's ever heard. The idea is that this is the Hendrix of now."
Listen to the protest track below.