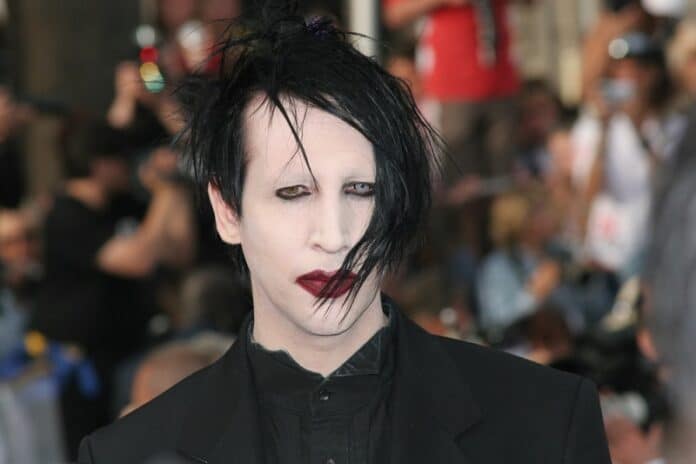 Marilyn Manson has denied allegations that he raped actor Evan Rachel Wood in 2007 on the set of his music video for 'Heart-Shaped Glasses'.
The allegations were dredged up following the release of 'Phoenix Rising', a new documentary about Wood's life and career that premiered at the 2022 Sundance film festival. In the film Wood claims that during a previously discussed "simulated sex scene", Manson "started penetrating me for real" as the cameras were rolling.
"I had never agreed to that," she said.
Wood also claims that she was fed absinthe on the set of the shoot where she played a character styled after infamous literary character Lolita, after which she was barely conscious and unable to protest to Manson's alleged assault. 
Howard King, lawyer for Marilyn Mason, born Brian Warner, denied Wood's claims in a statement to the Guardian: "Of all the false claims that Evan Rachel Wood has made about Brian Warner, her imaginative retelling of the making of the Heart-Shaped Glasses music video 15 years ago is the most brazen and easiest to disprove, because there were multiple witnesses.
"Evan was not only fully coherent and engaged during the three-day shoot but also heavily involved in weeks of pre-production planning and days of post-production editing of the final cut. The simulated sex scene took several hours to shoot with multiple takes using different angles and several long breaks in between camera setups.
"Brian did not have sex with Evan on that set, and she knows that is the truth."
Wood said that she had "never been on a set that unprofessional in my life up until this day. It was complete chaos and I did not feel safe. No one was looking after me."
The actress goes on to say that, at the time, she didn't know how to advocate for herself or to push back against Manson's alleged advances "because I had been conditioned and trained to never talk back – to just soldier through" and claimed that the crew "was very uncomfortable and nobody knew what to do".
Wood claims that the alleged incident left her feeling "disgusting and like I had done something shameful".
"I was coerced into a commercial sex act under false pretences. That's when the first crime was committed against me and I was essentially raped on camera."
In 'Phoenix Rising' Wood describes how she was given "really clear" instructions on how to describe the music video to journalists from Manson. "I was supposed to tell people we had this great, romantic time and none of that was the truth," she says.
"But I was scared to do anything that would upset Brian in any way. The video was just the beginning of the violence that would keep escalating over the course of the relationship."
Wood has previously accused Manson of grooming her prior to and during their three year relationship between 2007 and 2010, claiming he "horrifically abused me for years. I was brainwashed and manipulated into submission."
Wood is not the only woman to bring forth such allegations against Manson. She is joined by Game of Thrones star Esme Bianco, who has accused Manson of both sexual and physical violence, including what she described as torture. 
Manson continues to deny all allegations leveled against him, however, calling them "horrible distortions of reality … my intimate relationships have always been entirely consensual".
The artist is currently facing four lawsuits accusing him of sexual assault, battery, and harassment, in addition to an ongoing investigation into allegations of domestic violence being carried out by the Los Angeles County sheriff's department.