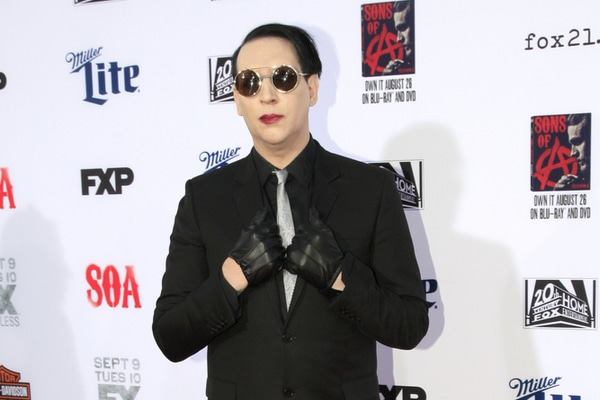 Marilyn Manson is set to hand himself into Los Angeles police on an active arrest warrant from an incident during 2019 in New Hampshire.
It had been reported that Manson spat and shot snot at a photographer, while performing live in the state.
The charge was two counts of a Class A misdemeanour simple assault. It was issued in May after Manson failed to answer the charges against him.
Deadline have reported that Manson has agreed to turn himself in on this warrant in LA.
The police chief for Gilford, New Hampshire is Anthony Bean Burpee. He also added that if Manson hands himself into police within the next few weeks, he could appear before a court as early as August.
"likes to be provoative"
At the time of the warrant, a statement was released on the Personal Jesus singer's behalf by his lawyer Howard King.
"It is no secret to anyone who has attended a Marilyn Manson concert that he likes to be provocative on stage, especially in front of a camera", he said.
"This misdemeanor claim was pursued after we received a demand from a venue videographer for more than $35,000 after a small amount of spit came into contact with their arm", he continued. "After we asked for evidence of any alleged damages, we never received a reply".
"This whole claim is ludicrous", he added. "But we remain committed to cooperating with authorities, as we have done throughout".
Further lawsuits against Manson
This follows further allegations and accusations that have been brought against the rocker.
Back in April, his former partner Esme Bianco filed a lawsuit for sexual and physical abuse as well as human trafficking. The Game of Thrones star went public with her claims a few months back, saying that she lost "all sense of hope and safety".
Manson's former assistant, Ashley Walters is also suing Manson, accusing him of sexual assault, harrasment and battery. It includes an allegation that after accepting an invitation to go to Manson's home for discussions on working together, a photoshoot took place between the pair where Manson allegedly pinned Walters to his bed.
It was also alleged that Walters turned away from Manson after he tried to kiss her. She also claims that Manson tried biting her ear and reaching inside her underwear. The report said that Walters moved away from Manson and left his home. More on that here.
Another former partner Ashley Morgan Smithline also claimed Manson raped her.
Manson has already been dropped from his record label, after another former partner Evan Rachel Wood and several other women accused the rocker of sexual abuse.
"He started grooming me when I was a teenager and horrifically abused me for years", Rachel Wood wrote.
"I was brainwashed and manipulated into submission. I am done living in fear of retaliation, slander, or blackmail.
She also added, "I am here to expose this dangerous man and call out the many industries that have enabled him, before he ruins any more lives. I stand with the many victims who will no longer be silent".
A member of Manson's team "strongly denies these claims".