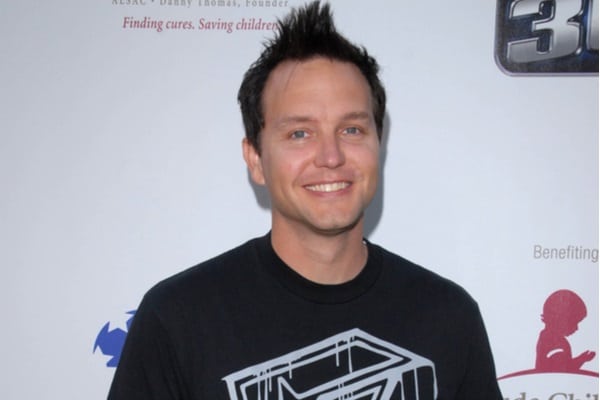 Blink-182's Mark Hoppus has opened up on his struggles in the aftermath of undergoing chemotherapy treatment for cancer.
In July 2021, the bassist was diagnosed with Stage 4 cancer, before undergoing treatment. He eventually received the all clear two months later, in what he described as an "amazing day".
"Just saw my oncologist and I'm cancer free!!", Hoppus wrote online. "Thank you God and universe and friends and family and everyone who sent support and kindness and love".
"I still have to get scanned every six months and it'll take me until the end of the year to get back to normal but today is an amazing day and I feel so blessed. Can I get a W in the chat?".
"healing through the band"
Hoppus explained about the depths of his health struggles following his chemotherapy, in an interview where he was speaking about mending fences with bandmate Tom DeLonge.
Blink-182 are in the middle of a World Tour, despite some postponed dates after Travis Barker returned home to be with his wife Kourtney Kardashian, who was rushed to hospital for some emergency surgery.
They have also released a new album 'One More Time..', their first new release since Tom DeLonge returned to the band in 2019.
Admitting he didn't think he would share a stage with DeLonge again, Mark Hoppus said, "I didn't know that Blink would ever get back together or that I would ever share a stage with Tom. And I told management, I told Travis [Barker], I told everybody, I'm like, 'I'm not setting foot on stage again with that dude. Not a chance".
He continued, "That's the truth. But I've always thought Tom was one of the best songwriters in the world and one of my favourite songwriters, but there was a lot of bad blood and there was a lot of stuff in the press and feelings and all this stuff".
Hoppus later revealed that DeLonge was a wonderful support to him when he became ill.
"I got sick… But Tom was always like, 'We're going to get you through this'", Hoppus explained.
"learning to play bass again"
After healing his relationship with DeLonge, Mark Hoppus detailed some of the challenges he faced to return to music, including working with a vocal coach, and learning how to play bass again.
"And healing through the band, once I was clear of the cancer diagnosis and got the all clear, I was still a f****** hollow, just shell. S*****, weak brain eaten with the chemotherapy and pain and everything else", stated Hoppus. "And then getting back in the studio to make this record was like learning how to play bass again, learning how to… The chemotherapy wrecked my vocal cords".
"I had to go to work with a vocal coach. I had to rebuild my throat. I had all this stuff had to rebuild to get to the point where we could go and walk on stage at Coachella and have one of the biggest shows of our career and have this album, which touch wood is one of the best albums we've ever written".