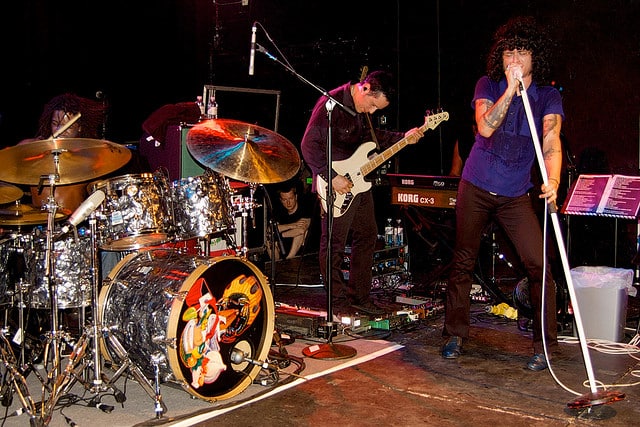 The Mars Volta duo are back with a new band called Antemasque, they're accompanied by Red Hot Chili Peppers' bassist Flea.
Omar Rodriguez-Lopez and Cedric Bixler-Zavala, formerly of Mars Volta, have returned to join forces with Flea and drummer Dave Elitch.
No one is exactly sure why the two finished Mars Volta, there were murmurs of a rift between the pair. After the group finished, Lopez and Zavala started the band At The Drive In, but again they split, this time 'creative differences' were cited as the problem.
But now they've seemingly kissed, made up and earlier this year returned as Antemasque.
In April, they released a string of singles, the first being 4am. Rolling Stone said the song was, "a charging, punkish rocker with the sorts of squiggly noodling that both the Mars Volta guys and Flea have used as calling cards in their respective groups."
The next day, they put up their second single Hangin in the Lurch. On Antemasque's bandcamp page they described the track as a mix of progressive rock and punk rock. A week later, they put out the third and fourth songs titled People Forget and Drown All Your Witches.
In July, they posted their album up for purchase on Bandcamp, before quickly taking it back down. Pitchfork reports that the band is planning a proper album release through their own record label, Nadie Sound.

Watch the behind the scenes with Omar Rodriguez-Lopez and Cedric Bixler-Zavala in the studio with Dave Elitch on drums and the Flea on bass recording a new song.
Their debut self-titled LP is out in October.
Antemasque track list:
1. 4AM
2. I Got No Remorse
3. Ride Like The Devil's Son
4. In The Lurch
5. 50,000 Kilowatts
6. Momento Mori
7. Drown All Your Witches
8. Providence
9. "People Forget"
10. "Rome Armed To The Teeth"