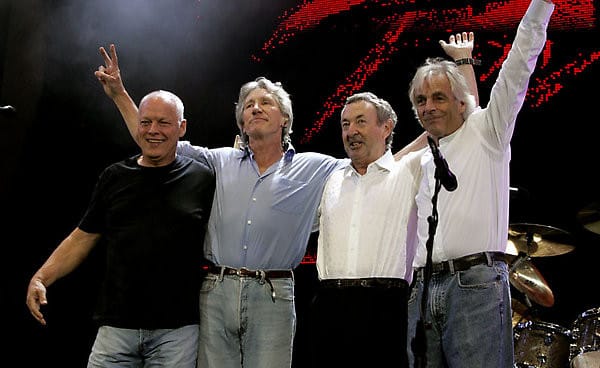 You know I think I can say with my hand on my heart, we're talked here before about the wonder that is Pink Floyd
Yes, yes..  just once or twice, I know.
Ok, in a nutshell, the lads form one of the best bands in the world, bring out lots of amazing albums, attempt to make some really dodgy ones ('Household sounds' anyone!?) fight, spilt, kinda reform, members join the great gig in the sky, kinda reform and retire.
Never to perform live on stage together again.
So NOW what do we do??
Turn to the TRIBUTE act of course. And Brit Floyd, the act on stage in the O2 Dublin tomorrow night isn't just any tribute act.  Its members played for David Gilmore and guests for his 50th birthday celebrations. So good were they, the Floyd guitarist decided to join them on stage himself for a few numbers. Not too shabby.
Brit Floyds musical director, Damien Darlington chatted with me on Radio Nova recently and is excited to bring us "P-U-L-S-E 2013, The Pink Floyd Ultimate Light & Sound Experience, a stunning new three hour show featuring note-for-note performances of five full album sides, including 'Wish You Were Here', 'Animals', 'The Wall', 'The Division Bell', and, in celebration of the 40th anniversary, Pink Floyd's defining album, 'The Dark Side of The Moon'.
Inspired by the record breaking 1994 'Division Bell' Tour and including the trademark Pink Floyd arch and circle light show, and brand new Floydian animation and projection, P-U-L-S-E 2013 will be Brit Floyd's biggest show yet"
So that's Saturday night sorted in very nice company then.
Find out more about Brit Floyd, hear some music or watch some videos at www.britfloyd.com and head to the O2 tomorrow night for about as close as we're going to get to the real thing in 2013.
Tickets start around the €25.50 mark and go to about €44.50. Doors are 6.30.
Chat to you on Radio Nova's 'Morning Glory' weekdays from 6am and on twitter too: MartyMtweets