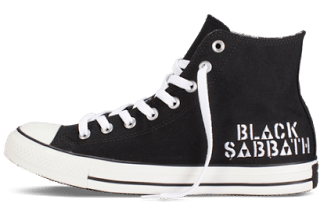 On Black Sabbath's 1970 album 'Paranoid', side 2 track 4. The title proclaimed "Fairies wear boots" That makes you and me fairies.. and you've got to believe me!!
And here's a pair of boots I can't wait to wear. The new 'Converse Chuck Tailor All Star Black Sabbath' collection!
It's album artwork on your Chucks!!! Albums you can walk in include 'Black Sabbath', 'Paranoid', 'Never Say Die' and 'Vol 4'
Also, the liners for the shoes feature a different pattern for each one. The 'Black Sabbath' one, for example, has the band name in the same font from the album cover while 'Vol. 4' features photos of the original line-up.
No word on where in Ireland we can buy just yet, but keep an eye on converse.com for more details or get your order in on the website. In the US, prices seem to be ranging from around $60-70.  So no doubt we'll pay double!!!
Black Sabbath were recent visitors to Belfast playing a stormer of a show and guitarist Tony Iommi recently released a promising update for 2014, noting, "We've some good things lined up for the coming year, firstly the Grammys, then some dates in the US and Canada, and in the summer a quick trip round Europe." (Maybe Dublin might get a look in this time!!)
Tony added the latest on his health situation "I should also be finishing my regular treatment and I'm hoping to not get so tired – all positive."
Iommi was diagnosed with Lymphoma in 2012 but has still managed to record a new album with Sabbath (13) and tour extensively.
Legend.
Now WHERE can I get those boots..??
Chat to you on the radio, mornings from 6 on Radio Nova's 'Morning Glory'
I'm on twitter too, @MartyMtweets.