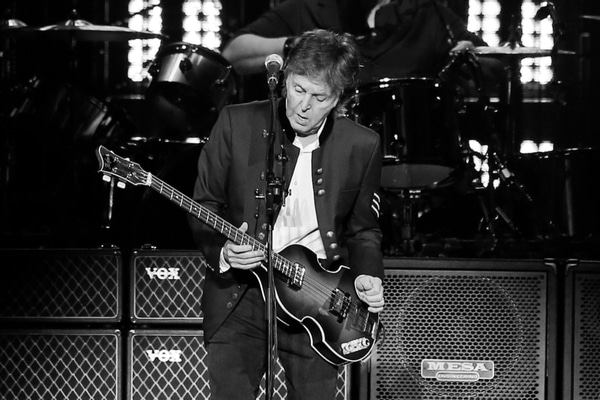 Paul McCartney has revealed that he still gets "very emotional" when he listens to the Wings' track "Dear Friend".
Wings were McCartney's post Beatles band, and the track was written by the music icon about John Lennon in 1971. Wings was McCartney's attempt to "relearn what it is to be in a band".
Celebrating the 50 anniversary Wings' album reissue 'Wild Life', a special Q&A about the record was recently shared on Paul McCartney's website. Check it out here.
"I sort of have to choke it back"
Paul McCartney had been speaking about the album "Wild Life" and of course the track "Dear Friend".
He admitted that he still gets "very emotional when I listen to it now. I have to sort of choke it back".
McCartney also explained that the track is "me talking to John after we'd had all the disputes about The Beatles break up".
"That lyric: 'Really truly, young and newly wed'. Listening to that was like, 'Oh my God, it's true!' I'm trying to say to John, 'Look, you know, it's all cool. Have a glass of wine. Let's be cool", McCartney continued.
He added, "And luckily we did get it back together, which was like a great source of joy because it would have been terrible if he'd been killed as things were at that point and I'd never got to straighten it out with him".
The music legend also stated that "Dear Friend" was about "me reaching out. So, I think it's very powerful in some very simple way. But it was certainly heartfelt".
On the band Wings, McCartney also added, "We followed what the early Beatles did which was form a band of people who couldn't play very well, couldn't write very well, and just do it a lot until it gets good".
Celebrate 50 years of Wings and join the #WildLife Listening Party this Friday! Listen to the album with fans all around the world 🌎

📅 Friday 4th February
⏰ 5pm GMT / 12pm ET / 9am PT
🎧 https://t.co/MEq8jJLZqb pic.twitter.com/xkWPoC5xRL

— Paul McCartney (@PaulMcCartney) January 31, 2022
McCartney: "Never got round to telling John Lennon he loved him"
Last November, Paul McCartney spoke at a promotional event for his book "Paul McCartney: The Lyrics", where he revealed that he "never got round to telling John Lennon that he loved him".
McCartney did claim that it feels "great" to realise how much John Lennon meant to him as a band mate and a friend. He also added that working with Lennon was like "looking in a mirror".
"It was always great to work with John, from the very first thing where he said, 'Yeah, I write songs too'. We just developed a way of working with each other and trusting each other that grew and grew", he said. More on this report from Nova here.