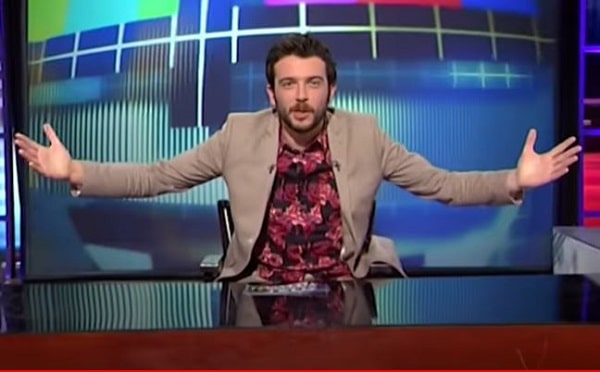 Former Republic of Telly host Kevin McGahern has a different view on the 'blasphemous' RTÉ New Year's Eve sketch which received a backlash of complaints from disgruntled viewers. He believes the Waterford Whispers skit was not necessarily an attack on God, but rather a "bold" joke.
The skit depicts God being arrested on accusations of sexual harassment and lightly sentenced for crimes of rape. Almost 5,000 complaints were made to RTÉ about the sketch and also led to former news broadcaster Aengus Mac Grianna apologising for his part in the Waterford Whispers sketch on RTÉ's New Year's Eve show.
It was branded 'deeply offensive and blasphemous' by the head of the Catholic Church in Ireland, Archbishop Eamon Martin. However, McGahern believes it was not an attack on God at all. In the interview, he explained that he will "always analyse things from a professor of comedy mind".
"My dad didn't like it and he's not easily offended," McGahern told the Irish Sun. "I do like a good bold joke. I like jokes that get people's feathers ruffled up."
The broadcaster later apologised Director General of RTÉ Dee Forbes has fully apologised for their failure to comply with the relevant guidelines and obligations.
However, McGahern sees the funny side and believes that "it's actually more an attack on the justice system, and how they give light sentences for f****** horrible crimes." He thought the skit was "kind of funny, to be honest".
Kevin joked about the Bible being a one-sided take on the immaculate conception, pondering if "what God did was dodgy," and highlighted the lack of evidence of consent by joking, "there is no record". McGahern added that we have only "his side of the story" to go by.
In a comedic fashion, McGahern then made a tongue-in-cheek liking to only hearing disgraced US comedian Louis CK's version of the sexual misconduct allegations made against him. The Irish comedian argues that the Bible is a book "he wrote" and joked, "I'd want to hear from the woman. I believe her, basically is what I'm saying."
Kevin took to Twitter after the release of today's front pages with a photo of his story and the caption "Yea, this shouldn't backfire at all".
Kevin McGahern will host the new show Clear History at half past 9 tonight, on RTÉ2.