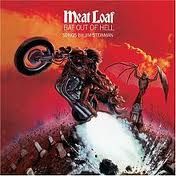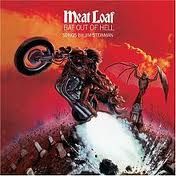 Bat Out of Hell is the second album and major-label debut by American rock musician Meat Loaf, as well as being his first collaboration with composer Jim Steinman, released in October 1977 on Cleveland International/Epic Records. It is one of the best-selling albums in the history of recorded music, having sold a total of 43 million copies worldwide. Rolling Stone magazine ranked it at number 343 on its list of the 500 greatest albums of all time in 2003.
Its musical style is influenced by Steinman's appreciation of Richard Wagner, Phil Spector, Bruce Springsteen and The Who. Bat Out of Hell has been certified by the Recording Industry Association of America as a platinum album, fourteen times over. The album went on to become one of the most influential and iconic albums of all time and its songs have remained classic rock staples.
This album's title also became the title for two more Meat Loaf albums. Steinman produced the 1993 album, Bat Out of Hell II: Back Into Hell. Desmond Child produced the 2006 album, Bat Out of Hell III: The Monster is Loose.
The album developed from a musical, Neverland, a sci-fi update of Peter Pan, which Steinman wrote for a workshop in 1974, and performed at the Kennedy Center Music Theatre Lab in 1977. Steinman and Meat Loaf, who were touring with the National Lampoon show, felt that three songs were "exceptional" and Steinman began to develop them as part of a seven-song set they wanted to record as an album. The three songs were "Bat Out of Hell", "Heaven Can Wait" and "The Formation of the Pack", which was later retitled "All Revved Up with No Place to Go".
Recording started in late 1975 in Bearsville Studios, Woodstock, NY. Roy Bittan and Max Weinberg, the pianist and drummer from Bruce Springsteen's E Street Band played on the album, in addition to members of Rundgren's group Utopia: Kasim Sulton, Roger Powell and John "Willie" Wilcox. Edgar Winter played the saxophone on "All Revved Up".Rundgren himself played guitar, including the "motorcycle solo" on "Bat Out of Hell". Both Steinman and Rundgren were influenced by Phil Spector and his "wall of sound". According to Meat Loaf, Rundgren put all the arrangements together because although "Jim could hear all the instruments" in his head, Steinman hummed rather than orchestrating.
Bat Out of Hell was released by Cleveland International on October 21, 1977. Cleveland International's parent label was Epic Records, where almost everyone hated it. Steve Popovich, the head of Cleveland International Records, was relentless in his efforts to get Epic and all of CBS Records and radio on board. In 1993, Steinman reflected that the album is "timeless in that it didn't fit into any trend. It's never been a part of what's going on. You could release that record at any time and it would be out of place."
Response to the album was slow. Steinman asserts that it was "underpromoted", having a reputation of being "damaged goods because it had been walked around to so many places." Due to the enthusiastic response to the music videos from the record Australia and England were the first to develop interest. The BBC television programme Old Grey Whistle Test aired a clip of the live band performing the nine-minute title track. According to Classic Rock, response was so overwhelming, that they screened it again the following week. They later invited the band to perform "Paradise" live. "As a result, in the UK Bat became an unfashionable, uncool, non-radio record that became a 'must-have' for everyone who heard it, whether they 'got' Steinman's unique perspective or not."
The album was not an immediate hit; it was more of a growing one. Bat Out of Hell still sells about 200,000 copies per year and has sold an estimated 43 million copies worldwide, 14 million in the United States alone, over 1.5 million (22 times platinum) albums in Australia (even re-entering charts on June 2007, at #34 on the ARIAs) becoming the second best-selling album there behind John Farnham's Whispering Jack, 24x Platinum.[33] It stayed on the United Kingdom charts for 474 weeks, a feat surpassed only by the 478 weeks of Fleetwood Mac's Rumours. In 1989, Kerrang! magazine listed the album at No. 38 among the "100 Greatest Heavy Metal Albums of All Time". In 2003, the album was ranked number 343 on Rolling Stone magazine's list of the 500 greatest albums of all time. In 2006 it was voted number nine in a poll conducted by the Australian Broadcasting Corporation to discover Australia's most popular album. In November 2007, Meat Loaf was awarded the Classic Album award in Classic Rock's Classic Rock Roll Of Honour.
Track listing
All songs written and composed by Jim Steinman.
Side one
No.
Title
Length
1.
"Bat Out of Hell"
9:56
2.
"You Took the Words Right Out of My Mouth (Hot Summer Night)" (intro spoken by Steinman and Marcia McClain)
5:04
3.
"Heaven Can Wait"
4:38
4.
"All Revved Up with No Place to Go"
4:19