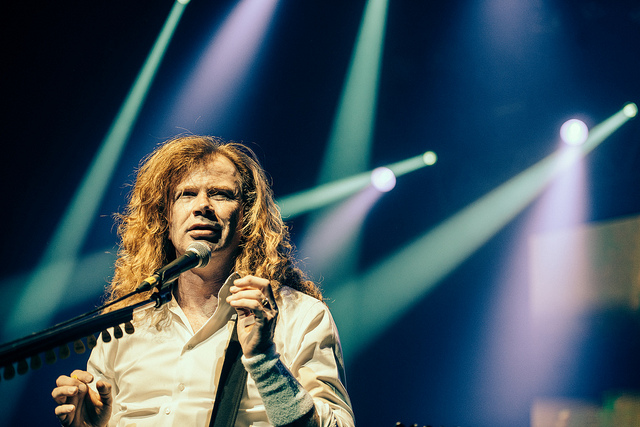 Megadeth were forced to finish their show early in Paraguay, after hundreds of fans crashed through the security barricades.
The group had to abandon the gig just five songs into their set after hundreds of fans tumbled through the barricades at the Sport Colombia stadium in Asuncion on Saturday. Various reports have described the crowd as very "rowdy" with others suggesting beverages were available to purchase in glass bottles.
Police confirmed with Inter Aksyon that several people were injured with one woman left fighting for her life.
Frontman Dave Mustaine, took to Twitter to share his opinion of the incident:
"Dear Paraguay, After all three barricades broke and hundreds of fans crushed three security guards, almost killing one female fan, we regretfully had to cancel the show. Please understand that your safety is just as important as ours and after all the security went in the pit someone ran onto the stage, a bottle was thrown, and we'll let you know as soon as we can reschedule and come back. Lo siento. This is out of our hands and we will make sure when we return to use a different venue, security, and promoter. Again, Lo siento mucho."

He also posted an image of the venue's unreliable barricades which were "held by a string". He was also disappointed by the crowds behaviour who threw two bottles at his crew members.
This isn't the only drama the group have experienced on their South American tour. They recently visited a fan who was stabbed during their concert in Argentina.
The band have promised to return to Paraguay at a later date using a different venue.
Photo Credit: Kmeron