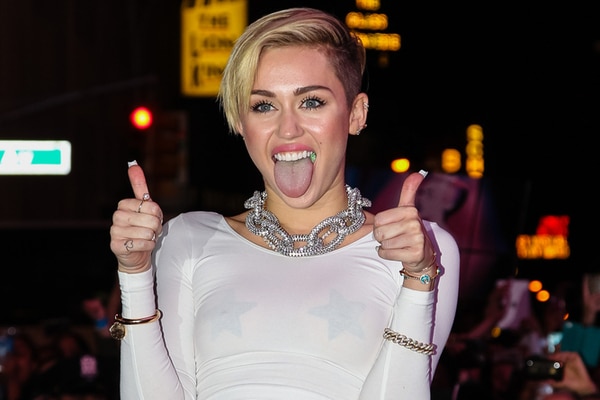 An eye-catching collaboration is lined up for today's edition of The Howard Stern Show as Metallica will perform with Miley Cyrus.
The dual performance comes ahead of tomorrow's release of The Metallica Blacklist, an album of cover versions of from Metallica's The Black Album.
One of the covers featured on the album is Miley Cyrus's take on Nothing Else Matters. She's joined on the track by Ozzy Osbourne producer Andrew Watt, Elton John, Metallica's Robert Trujillo, Red Hot Chili Peppers' Chad Smith and cellist Yo-Yo Ma. Cyrus previously performed a version of the song during her 2019 appearance at the Glastonbury music festival.
Both Metallica and Cyrus will perform together from a studio in Los Angeles while appearing virtually on Stern's New York based radio show.
"We'll be in Los Angeles with Miley, while Howard will be in his New York studio, and in between the chatter, we'll grab the guitars, climb behind the drums and play a few songs," Metallica revealed in a statement.
View this post on Instagram
James Hetfield, Kirk Hammett, Lars Ulrich and Robert Trujillo will all feature for Metallica in their appearance. It hasn't been revealed which songs they'll perform but given Cyrus's presence it's likely a rendition of Nothing else Matters will feature.
Hopefully Metallica's duet with Cyrus will go smoother than their last collaboration with a pop diva. In 2017 the band shared the stage at the Grammies with Lady Gaga for a version of their song Moth Into Flame. That performance was dogged by technical issues, including James Hatfield's microphone failing to work for a large portion of the performance. To appease disappointed fans, Metallica later shared footage of their rehearsal with Gaga to give an idea of how it should have sounded.
Cyrus had a recent rock duet of her own at this summer's Lollapalooza festival in Chicago. On that occasion she was joined by Billy Idol. The pair performed Idol's hit White Wedding and their collaboration Night Crawling.
She may be known as a pop chanteuse, but Cyrus's love of hard rock is well documented. She wowed grunge fans last year with her cover of Pearl Jam's Just Breathe during an MTV Unplugged performance.
Metallica's The Black Album celebrates its 30th anniversary this week with the release of the star-studded covers album. Along with Cyrus, other artists involved include My Morning Jacket, St. Vincent, Chris Stapleton, Biffy Clyro, Weezer and Slipknot's Corey Taylor.
"We cast the net as wide as possible: to rock, alternative, country, bluegrass and rap," Hetfield said of the diverse range of artists involved.