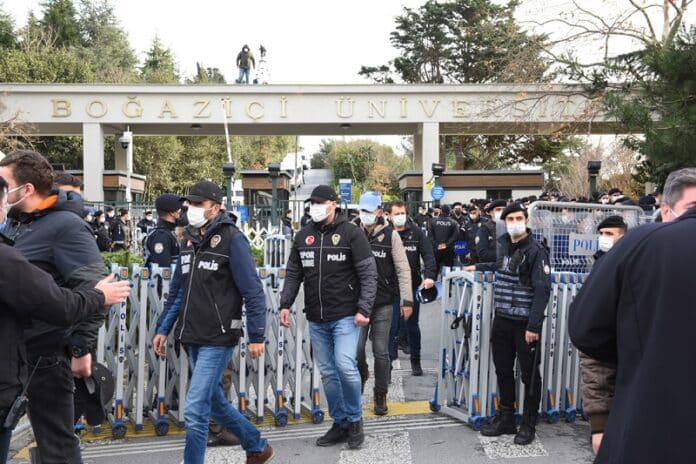 Students at the Bogazici college in Istanbul have been using Metallica as the soundtrack for their protests at the new college president.
Melih Bulu has been appointed as the new president of the university. Bulu is an ardent supporter of Turkish leader Recep Erdogan.
Under Erdogan's rule, the free press, the judiciary system and the education system in Turkey has suffered greatly.
There is growing discontent with Erdogan and his conservative AK party. Despite Bulu stating he has no intention of changing the ethos of the college, students are angry that he is now in charge.
The students decided to protest his appointment and they decided to use Metallica's music as part of their demonstrations because Bulu appeared on Turkish TV and said "I am a rector who listens to hard rock, to Metallica."
The students protesting at the university dance to Metallica songs such as 'Master Of Puppets', 'Sad But True' and their cover of Diamond Head's song 'Am I Evil?'
Bogazici's new rector, an Erdogan appointee, said yesterday he loved Metallica and hard rock.

Students today: pic.twitter.com/WtwESaLhVy

— Piotr Zalewski (@p_zalewski) January 6, 2021
Since the new year, students have been protesting the decision. They have been peaceful protests for the most part but there has been some clashes between police and students.
These protests are a far cry away from the protests that shocked the world last week from Washington. You can watch the footage of the students protesting to 'Master Of Puppets' below.
At the time of writing, Metallica have not commented on their music being used in the protest. The band notoriously try to avoid commenting on political matters. Frontman James Hetfield discussed politics in an interview with Chilean newspaper La Tercara and said:
"But, yeah, politics, we try to stay away from that 'cause it polarizes people. If I sit here and say that I hate Trump or I love Trump, someone will think, 'Oh, I don't like his music anymore.' It's silly. So I like to keep it about music."
This is not the first time heavy music has been used as a protest anthem. Last summer, Rage Against The Machine's 'Killing In The Name Of' was used in the Black Lives Matter protests and Rage guitarist Tom Morello even penned the soundtrack to a short BLM movie. You can check out Radio Nova's report on it here.