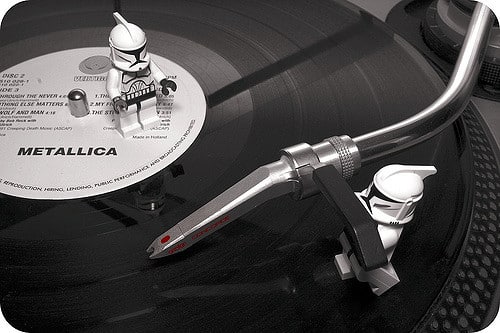 Metallica (also known as The Black Album) is the fifth studio album by the American heavy metal band Metallica. The album was released on August 12, 1991, with Elektra Records and became the band's best-selling album and one of the best-selling albums worldwide.
Metallica released five singles that are some of the band's best-known songs: "Enter Sandman", "The Unforgiven", "Nothing Else Matters", "Wherever I May Roam", and "Sad but True". Bob Rock adds a professional and crisp production to the album although there was some conflict between himself and the band.
Metallica saw a change in the band's sound from the thrash metal of the band's previous four albums to a sound less harsh. Some fans were not happy with this more commercial turn Metallica had taken with their music but more disagreed. The band's popularity exploded and most of their back catalogue found mainstream acceptance in its own right. Following this, the popularity of metal bands inclined and it encouraged them to make the same move toward simplification.
This was Metallica's first album to top album charts and they promoted it with a series of tours. The album debuted at number one in ten countries and spent four consecutive weeks at the top spot of the Billboard 200. As of November 2014, the album has spent 328 weeks on the Billboard album chart, making it one of the ten longest running discs ever. The album was certified 16× platinum by the Recording Industry Association of America (RIAA) on December 13, 2012 and has sold around sixteen million copies in the United States since its release.
Metallica thrilled fans by playing the album in its entirety during the 2012 European Black Album Tour.
Tracks:
1. 'Enter Sandman'
2. 'Sad but True'
3. 'Holier Than Thou'
4. 'The Unforgiven'
5. 'Wherever I May Roam'
6. 'Don't Tread on Me'
7. 'Through the Never'
8. 'Nothing Else Matters'
9. 'Of Wolf and Man'
10. 'The God That Failed'
11. 'My Friend of Misery'
12. 'The Struggle Within'
Photo Cred: d-q