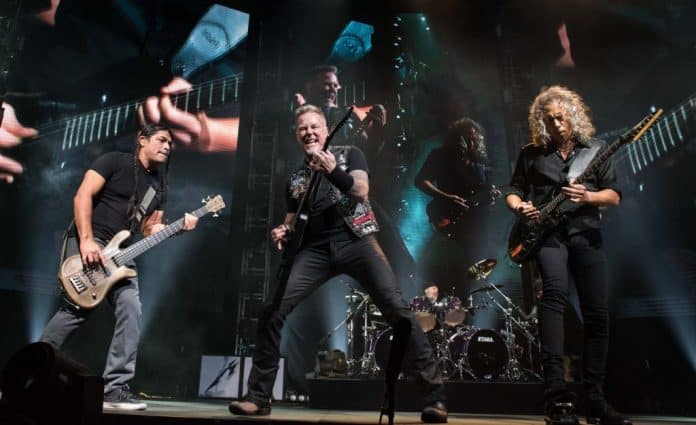 Legendary American heavy metal rock band Metallica have been announced as the recipients of the Polar Music Prize. The prize is given to two recipients annually, with a gala ceremony being held for them in Stockholm.
The rockers will receive the prize along side The Afghanistan National Institute of Music (ANIM) and it's founder Dr Ahmad Starmast. Bit of a strange pairing? That's because one of the recipients is chosen from the contemporary music world, and one from the classical.
And it's not just an ornament for the mantle piece. The prize also includes £88,000 which is handed out in front of the Swedish Royal Family.
 The Polar Music Prize is in it's 27th year of awards, with some very big names having previously won. Metallica will be joining Patti Smith, Paul Simon, Sting, Bjork and Chuck Berry in the Polar Music Prize Hall Of Fame.
On June 14th we will receive Sweden's @PolarMusicPrize which awards two laureates in celebration of music in all its various genres. Honorees receive one million SEK which we will donate to @AWMHFoundation. We are truly humbled & inspired to be recognized in this manner! pic.twitter.com/oXkHySzah1

— Metallica (@Metallica) February 14, 2018
Drummer and co-founder of Metallica Lars Ulrich said the following about the news: 'Receiving the Polar Music Prize is an incredible thing, it puts us in very distinguished company.' Bandmate and fellow co-foudner James Hetfield added: 'I feel very honoured to be in such great company with the others who have accepted the Polar Music Prize.'
Director of ANIM and recipient of the laureates for the classical music category, Dr. Ahmad Starmast said he was 'excited, honoured and privileged' to receive the prize alongside the music institute, which he founded in 2010. The institute was created in response to the civil war's destruction of Afghanistan's musical tradition.