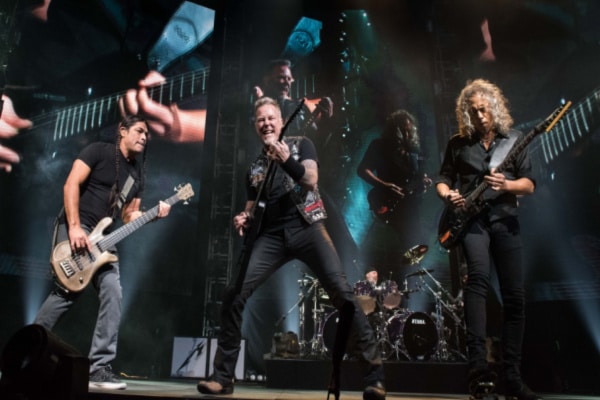 In light of its recent resurgence in the charts, Metallica have released a brand new music video for 'Master Of Puppets'.
Despite being released in 1986, the track reached number 40 in the Billboard in the charts earlier this month.
The track's recent renaissance has been mainly down to its inclusion in the finale of Netflix sci fi series, Stranger Things.
The single itself was the the title track of Metallica's 1986 studio album, released via Elecktra Records.
Metallica have now released an all-new lyric video. It also includes dark and twisted imagery. The video also contains animated shots of neon crucifixes, puppets, lightening and more.
Metallica – 'Master Of Puppets'
Check out the video for yourselves below.
Meanwhile, Eddie Munson who is played by actor Joseph Quinn in the Netflix hit, can also be spotted rehearsing guitar riffs for this track in footage which was shared earlier this month.
Stranger Things
Stranger Things has played an integral part in the resurgence of several tracks.
Along with Metallica single 'Master Of Puppets', Stranger Things has paved the way for Kate Bush's track 'Running Up That Hill' to break all kinds of records.
Following its inclusion in the series, 'Running Up That Hill', reached number one in the UK charts for the first time since it was released in 1985.
"So many young people who love the show are discovering the song for the first time", Bush said in a statement.
"The response to Running Up That Hill is something that has had its own energy and volition. A direct relationship between the shows and their audience and one that has stood completely outside of the music business. We've all been astounded to watch the track explode!".
Kate Bush broke other records, including becoming the oldest female artist to release a number one in the UK, and the longest gap between UK number ones.
'Running Up That Hill' also broke the record for the longest time taken for a track to reach number one. More on this from Nova here.
As for Metallica, a band featuring the sons of their drummer Lars Ulrich called Taipei Houston have also released a new single of their own. See here.