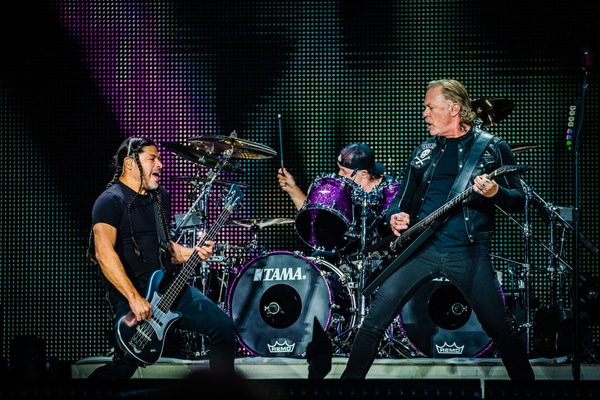 Lloyd's of London insurance company is subject of a lawsuit by heavy metal group, Metallica, over financial losses incurred from postponed shows amid the COVID-19 pandemic. The Nothing Else Matters rockers have brought a suit forward earlier this week in Los Angeles' Superior Court.
The band were due to embark on a six-date tour of South America with support from Greta Van Fleet in April 2020, with the shows planned before the global pandemic shut down the live music industry.
Metallica rescheduled the shows for December 2020, but with the pandemic showing no signs of slowing down, those dates were also postponed. The band said it was hoping to reschedule the shows for late 2021, but as of yet no new dates have been announced.
The suit claims the insurer has refused to compensate the band for losses suffered after the band was forced to postpone six South American shows in 2020. According to reports, the band has alleged a breach of contract has taken place and seek unspecified damages, along with a declaration of the rights and obligations of the parties.
Metallica played around the world in 2019 as part of their WorldWired Tour, and began an eight-show tour with two shows in San Francisco in September 2019. Six more shows were set to take place in South America beginning in April 2020, in Santiago, Chile, the suit states.
However, performing was put on hold as nearly 100% of the world's destinations had COVID-19-related travel restrictions, forcing Metallica to postpone those last six shows, according to the suit.
Before the band embarked on the tour, a standard "cancellation, abandonment and non-appearance insurance" policy was purchased in case any portion of the tour was cancelled or postponed. The suit states that the band "timely turned to (Lloyd's) for the promised and reasonably expected coverage for their losses".
Citing the policy's communicable disease exclusion, Lloyd's "denied any coverage obligation whatsoever based on an unreasonably restrictive interpretation of the policy," the suit alleges.
In lighter news, Metallica have just celebrated the 25th anniversary of their 1996 hard rock album, Load. The album is 27 tracks, and 71 minutes long, making it the band's longest ever album. And to mark the 30th anniversary of their self-titled debut album, Metallica hinted there could be a deluxe reissue their 1991 Black Album on the cards. The band have already released album reissues for Ride the Lightening, Kill 'Em All, Justice For All, and Master of Puppets in recent years.