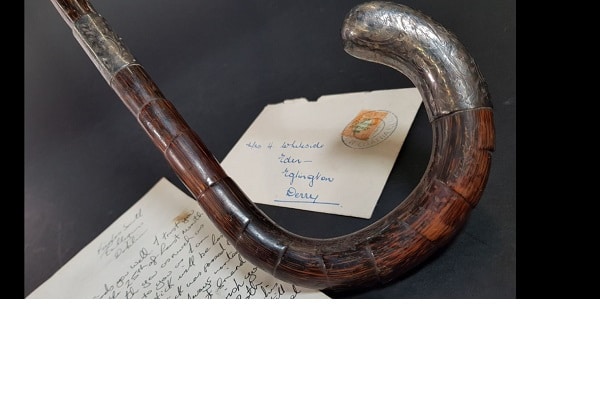 A walking stick owned by Republican leader Michael Collins is to be auctioned.
It also emerged that a set of police files that tracked his activities during the War of Independence are to also go under the hammer. This auction will take place at Bloomfield Auctions, east Belfast next week.
Both of these artefacts could possibly sell for £10,000 (€12,000) each.
Other items under the hammer also include a service medal from the 1916 Easter Rising in its original box.
Among the other items also includes a hurley signed by republican prisoners, including IRA leader Joe Cahill and a gate from inside the H blocks in the Maze paramilitary prison from the Troubles.
A series of artworks which were painted by Loyalist killer Michael Stone are also going under the hammer.
This auction will also feature two pieces of a dining set used by high ranking Nazi officers Joseph Gobbels and Henrich Himmler on their personal train carriages during World War II. This dining set features a spoon and a porcelain jug.
"A really important piece"
The managing director for Bloomfield Auctions is Karl Bennett.
Bennett said that the Michael Collins memorabilia is to grab particular attention at this auction.
He said, "That walking stick Michael Collins actually held, he used it. That's a really important piece that should end up in a museum, as well as those documents".
"The Royal Irish Constabulary documents, my estimate on those would be between £4,000 to £6,000 (€5,000-€7,000) but I wouldn't be surprised if they hit five figures", Bennett also added.
"The same with Michael Collins' stick, I would estimate £5,000 to £7,000 (€6,000-€8,000). But I could see it hitting potentially £10,000 with the right bidders behind it".
"A plethora of information" on Collins
Bennett also revealed the "plethora of information" that these police files conatined when tracking Collins' activities during the War of Independance.
"Within those documents we have a plethora of information that was received", Bennett said. "It was amazing how good the intelligence was back in 1921″.
He continued, "Within those documents we have movements of Michael Collins, we also have Eamon de Valera accepting the prime minister's (Lloyd George) invitation to meet and de Valera putting out a message to his men to refrain from activities (during peace talks)".
He also added, "We have Michael Collins being mentioned going up north to stir up strife".
"We have it mentioned within the documents that if Michael Collins was seen in an area to please arrest this man. As well as a host of other information. It's a really important piece of history".
This auction takes place in Belfast next Tuesday and Wednesday. Check it out here.
Speaking of auctions, music legend Johnny Ramone's guitar went under the hammer earlier this month. More on that here.