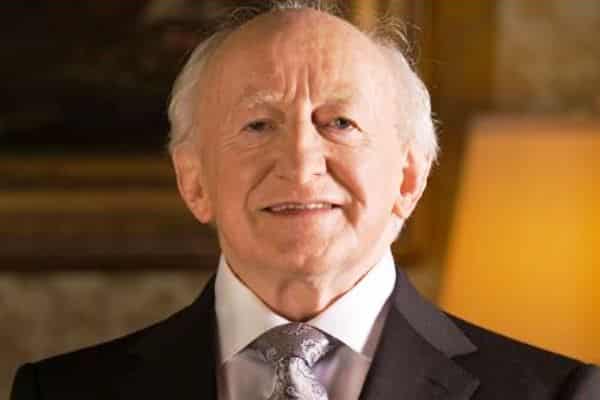 Presidential election nomination papers for President Michael D. Higgins were submitted at the Custom House in Dublin today.
President Higgins will formally launch his campaign in Dublin city centre on Wednesday 26th September, when he will engage with the media.
Speaking ahead of the campaign, President Higgins said:
"Since entering office as President in 2011, I have been honoured to serve Ireland and its people. I have dedicated myself to each aspect of the role from the constitutional responsibilities and representation of our nation at home and abroad, to those wider conversations and connections which I have, as President, been able to develop and deepen.

"I have sought to honour the many strands of our history, while also articulating a vision of a real Republic where the rights, equality, creativity and the participation of all are valued, encouraged and celebrated.

"At this important time for our nation I am once again offering to serve, and I am asking the people of Ireland to place their confidence in me.

The President of Ireland must have experience, judgement, understanding and empathy, as well as a vision for our nation and its communities. In the forthcoming campaign, I will outline my vision for Ireland's future, and my proposals for further encouraging participation, promoting equality, and deepening Ireland's relationships with our neighbours, near and far, in a challenging international environment.

"I am very much looking forward to an active campaign, which I hope will be driven by ideas and values so that citizens can make an informed choice on 26th October. "
Meanwhile, the final line up of Presidential candidates is likely to be at hand. Joining President Higgins will be Sean Gallagher, Joan Freeman, Gavin Duffy, Liadh Ni Riada and Peter Casey on the ballot.
The final meetings to nominate a candidate before Wednesday's deadline were held this morning with no candidate getting the needed support of four local councils.
Gemma O'Doherty secured the backing of Laois county council but Donegal, Sligo, Kildare and Cork County Councils all elected not to back anyone.
It's unlikely anyone will come through the Oireachtas route with TDs and Senators unable to agree on a candidate.