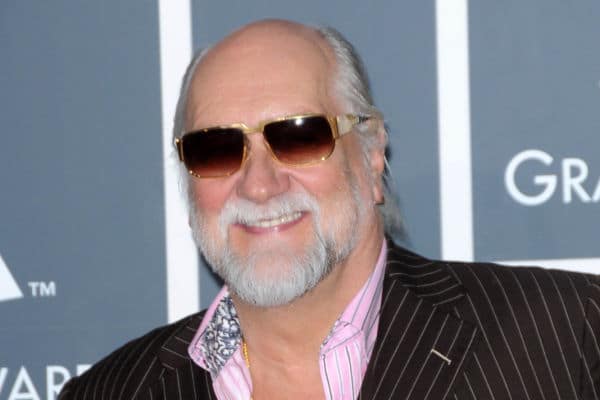 Mick Fleetwood has broken his silence on the future of Fleetwood Mac for the first time since the death of bandmate Christine McVie last year.
Singer Christine McVie passed away following a short illness aged 79. Her family and Fleetwood Mac paid tribute to her. More here.
"I don't think any of us sit in the studio making decisions based on what is gonna get us one of these. This is really, really kind. I'm so, so grateful… This doesn't happen to people like me very often, and this is so, so nice, thank you very much", her family said in statement.
"the line in the sand"
Speaking at the Grammy Awards over the weekend, Mick Fleetwood feels that the band are unlikely to return to the stage following McVie's passing.
"I think right now, I truly think the line in the sand has been drawn with the loss of Chris", Fleetwood said on the red carpet.
Fleetwood did insist that he still has plans to perform, but "not as Fleetwood Mac". 
"I think right now, I truly think the line in the sand has been drawn with the loss of Chris", he explained.
The drummer also added that surving bandmembers including Stevie Nicks, Neil Finn, Mike Campbell, as well as former guitarist Lindsey Buckingham remain occupied with other committments.
"They all get out and play, so I'm gonna be doing the same thing, finding people to play with", he added.
Leaning into the camera, Fleetwood also joked, "Anyone out there?". 
Later that night, Fleetwood performed McVie's siganture track 'Songbird' alongside Sheryl Crow and Bonnie Raitt.
Reacting to her death, Stevie Nicks hailed former Fleetwood Mac bandmate Christine McVie as the "best friend in the whole friend".
"A few hours ago I was told that my best friend in the whole world since the first day of 1975, had passed away. I didn't even know she was ill…until late Saturday night. I wanted to be in London; I wanted to get to London – but we were told to wait", she wrote.
See more tributes here.