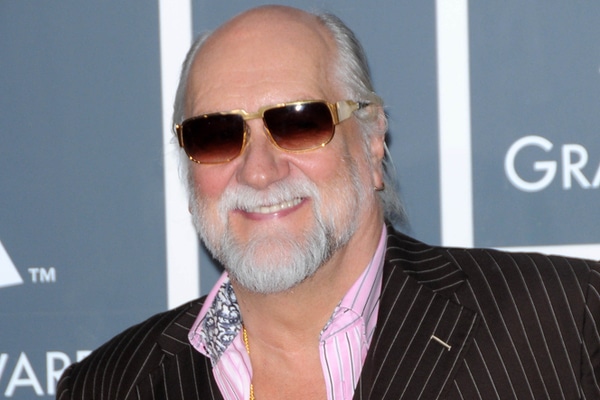 Mick Fleetwood is set to produce a series for American TV network Fox.
The Fleetwood Mac drummer will serve as executive producer on 13 Songs, which follows an aging rock star diagnosed with terminal cancer. Fleetwood is expected to contribute music to the show, along with providing creative input.
The show's central figure is Jasper Jones, a rock star whose band, The Grift, were once on top of the world but have fallen out of favour in recent times. When Jones is diagnosed with terminal cancer and given just a few months to live, he reunites with his band to record 13 final songs before his passing.
The show will be directed by Jonathan Levine, who recently helmed the show Nine Perfect Strangers, and is written by Will Reiser and Jonathan Prince.
Cast members have yet to be announced.
Fleetwood last dabbled in TV back in 1989 when he appeared as a guest star on shows Wiseguy and Star Trek: The Next Generation.
Fleetwood's former bandmate Lindsey Buckingham recently spoke of how the band didn't work "on paper."
"Early on, soon after joining Fleetwood Mac, I realised that we were the kind of group who didn't – on paper – belong in the same group together," he said. "But yet that was the very thing that made us so effective."
Buckingham also said that "politics have essentially dictated that [Fleetwood Mac] haven't made any new music in a while."
The guitarist was fired from Fleetwood Mac in 2018, reportedly for seeking time off to focus on his solo projects. He went on to say that Stevie Nicks was refusing to work with him and the rest of the band took Nicks' side on the matter.
"It just got to the point where someone [Nicks] just didn't want to work with me anymore," he said. "And other people [in the group] were perhaps not feeling empowered enough to stand up for me when possibly they should have or could have. I'm not saying that I can't be hard to get along with sometimes, but if you put it in a larger context of all the things that Fleetwood Mac has been through and what we've risen above in order to keep our eye on the larger picture and in order to fulfil our destiny over and over again… What was most disappointing about it to me was not, 'Oh, I'm not gonna get to do this tour'. What it was [is] again, we spent 43 years building this legacy which was about rising above things – it stood for more than the music. And by allowing this to happen through some levels of weakness – my own weakness included – I think we did some harm to that legacy. And that's a shame."
Despite his sacking, Buckingham said he and Fleetwood would always be "soulmates."
"We love each other and reinforced each other's sensibilities in the band," he said.