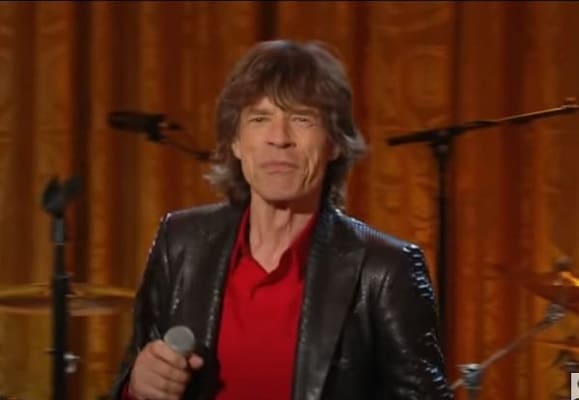 Jon Bon Jovi claimed that Mick Jagger once pretended to be in a band with him during his pre fame days.
Bon Jovi made this revelation when speaking on the Guy Kemp and Guy Pratt's Rockonteurs Podcast. Bon Jovi reminisced about when he was working at the Power Station recording studio in New York. He was only 18 years old at the time.
He spoke about his encounters with David Bowie, Freddie Mercury as well as Jagger himself, before he hit the big time.
"They paid me $50 a week to be the gofer and if it was a weekend or a late, late night, I could go in and record" Bon Jovi recalled.
"No one believes what I saw"
Jon Bon Jovi also claimed that one night he saw David Bowie and Queen's frontman Freddie Mercury at the studios. They were recording their 1981 collaboration "Under Pressure". 
"No one believes what I saw", exclaimed Bon Jovi.
Bon Jovi's Encounter with Mick Jagger
It was also around this time that Jon had a chance encounter with the Rolling Stones' Mick Jagger. The music legend claimed that Jagger pretended to be in a band called the Frogs with a teenage Bon Jovi.
Jon said, "I'll never forget this, I was outside paying my cabby… and The Stones got out of whatever car it was they were getting out of". 
He continued, "At the same time, they were going into (The Power Station) studio and a photographer jumps out of a trash bin and the paparazzi starts taking pictures. I swear to god this is true. The Stones, they open up the door of the studio… Wyman, Mick and Keith. They go into the studio". 
Bon Jovi also added, "The photographer is screaming, 'Mick, Mick, Mick! Give us a picture!' and I swear to you, he grabs me and these kids and he says, 'Here's my new band, The Frogs' And we took a f*****g picture". 
We brought you the news last week that previously unseen footage from the Rolling Stone's 1972 American Tour came to the surface. More here. 
Also, who could forget the debate surrounding Jon's heavily debated cover of "Fairytale of New York"?! More here.