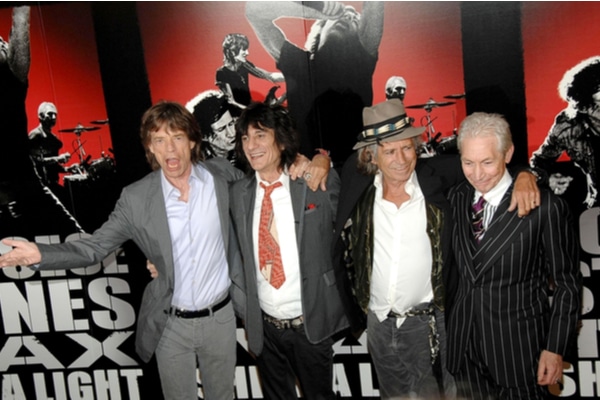 The Rolling Stones frontman Mick Jagger has shared an insight into touring live without the band's "heartbeat" Charlie Watts.
Watts passed away in August aged 80. The band recently paid tribute to the late drummer when they kicked off their resumed No Filter Tour earlier this week. This is the Rolling Stones' first live tour without Watts since he joined the band in 1963.
Mick Jagger addressed the crowd at their first live show of the tour, "This is our first-ever tour we've ever done without him. We'll miss Charlie so much, on and off the stage".
Watts was "the heartbeat for the band" – Jagger
Speaking on the Howard Stern Show yesterday (September 29), Jagger hailed Watts as "the heartbeat for the band, and also a very steady personality".
Jagger also added, "He was not to be perturbed. He was a very reliable person, wasn't a diva – that's the last thing you want in a drummer".
"I miss Charlie because he had a great sense of humour and we also were… outside of the band, we used to hang out quite a lot and have interesting times. We liked sports, we'd go to football, we'd go to cricket games, and we had other interests apart from music".
Jagger also added, "Every time we get together now and rehearse, we say, 'Oh, Charlie would say this, then he would do that".
"We did so many shows with him and so many tours and so many recording sessions, it's strange being without him. When he was sick, he said, 'You've gotta just carry on and do this tour. Don't stop because of me'. So we did".
The next show as part of the band's No Filter Tour will see the Rolling Stones perform live at the Bank of America Stadium, Charlotte NC tonight (September 30).
Recently, music icon Ringo Starr recalled having a drumming session with the late Charlie Watts and former Led Zeppelin sticksman John Bonham. Reflecting on this session, Starr said that the session makes him wish TikTok was around in the 1970s!
The Rolling Stones also recently shared a previously unreleased track "Troubles A Comin". Check that out here.