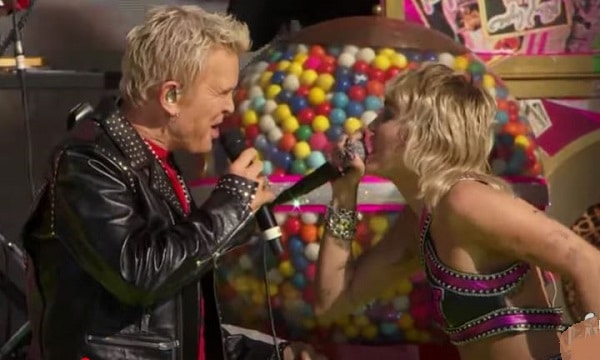 Super Bowl Sunday got underway this weekend and Miley Cyrus kicked things off with the TikTok Tailgate pre-game show. The singer played out a pre-show concert out to 7,500 health care workers and first responders, all of whom had been vaccinated.
An 18-song set featured a host of cover songs and many tracks from her own discography. Over the course of the performance, Miley covered Blondie's Heart of Glass, Dolly Parton's Jolene, and Bikini Kill's Rebel Girl, and many more. Cyrus brought out guests Billy Idol and Joan Jett and played a slew of covers in the set.
Rebel Yell singer, Billy Idol joined Miley for a rendition of his hit White Wedding, before the live debut of their own recent collaboration, Night Crawling. Joan Jett, another featured guest on Plastic Hearts, sat in for Bad Reputation, I Hate Myself for Loving You, and their recent collaboration, Bad Karma, which also marked a live debut.
Miley also performed the original version of Nine Inch Nails' Head Like a Hole after teasing it last week. She previously covered the song as Ashley O for season five of Black Mirror in 2019 but, reworked the original to make a lighter version called On A Roll.
Fleetwood Mac singer, Stevie Nicks also received a nod when Miley gave a performance of Midnight Sky, which turned to Edge of Seventeen. The pair collaborated last year to create the mashup, Edge of Midnight. Toni Basil's Mickey was also covered, with the entire show broadcast live on TikTok.
Miley Cyrus has covered a number of classic bands over the last year or two. The singer performed songs from bands such as Pink Floyd, Led Zeppelin, the Cranberries. Cyrus is even working on a Metallica cover album, who she will be collaborating with artists such as Elton John and RHCP's Chad Smith.
Check out Billy and Miley performing here.