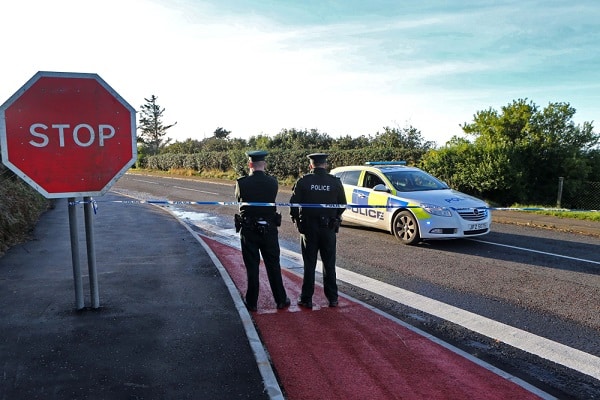 Police in Northern Ireland can now enforce laws to get people to return to their homes. First Minister Arlene Foster has said abiding by COVID-19 restrictions has "never mattered so much".
Foster's comments came following the Stormont executive's agreement to give police the power to enforce the stay-at-home order, which is due to take effect today. However, concerns about "gaps" in the law were made by the Police Federation. Mrs Foster said ministers had not taken the step lightly and had done so "reluctantly".
Enforcement powers are to be reintroduced to assist the Police Service of Northern Ireland (PSNI). These powers enable officers the authority to order people to return home, if they are in breach of lockdown rules. Chair of the Police Federation, Mark Lindsay questioned the executive's decision to reintroduce the powers and how extensive the legislation would be.
"There's a whole pile of gaps that the police are very much left to pick up the pieces on," Mr Lindsay said. "We don't think that's practical or fair".
First ministers and deputies will meet with the PSNI Chief Constable, Simon Byrne to discuss through the new powers. Mrs Foster said they know the PSNI will do "everything they can to first engage and explain before turning to their powers".
In the Stormont assembly, Mrs Foster spoke alongside Deputy First Minister, Michelle O'Neill to explain their decisions. The First Minister said the reasons were down to Northern Ireland's health situation being "grave". Mrs Foster said they "regret" having to put it in law because they're "restricting freedoms and that is very regrettable".
Ministers agreed on Tuesday that schools should move to remote learning until mid-February. The tight restrictions are in place amid the rising number of coronavirus cases. The reproductive rate of the virus is approximately 1.2 and hospitals are already at full capacity.
Justice Minister Naomi Long said the PSNI are operating in difficult circumstances, but she believed that they had acted "broadly proportionately" thus far.
Mrs Long said the executive had not moved to put into law a travel limit for exercise, but that they agreed to place in guidance that "people should not go more than 10 miles from their home to exercise". Ms O'Neill said the escalation in positive cases presented a "real threat" to the health service and that people needed to be protected. Meanwhile, Health Minister Robin Swann pointed the finger at all the people flaunting rules.
"I wish those people ignoring the message would just stay at home out of the road, because what they do is akin to walking into any of our hospitals or ICU units and slapping a nurse in the face," he said.
"That's how I feel about those people who take these actions, who think they are either above what's happening or immune."
From Friday, people will only be permitted to leave their home for medical or food needs, exercise and work that cannot be done within the home. The executive has also decided to reduce the number of people allowed to meet both indoors and outdoors.