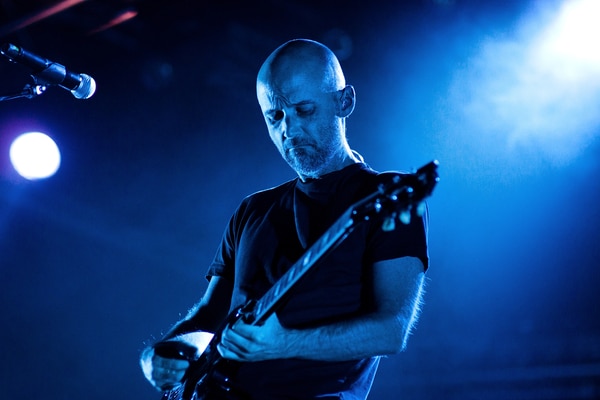 Punk rocker turned electronic pioneer, Moby, is set to be the subject of a new documentary by director, Rob Bralver. Moby Doc will feature in-depth interviews with the star, which he hopes will help people see who he really is. The documentary comes alongside the announcement of Reprise, an orchestral album that rearranges a selection of his hits.
Moby is the artist behind Go, hit album Play and a storming cover of Mission To Burma's That's When I Reach For My Revolver. The star says he hopes the new documentary, which features his struggles with addiction and depression, will help counter any "misrepresentation" of him.
"In making Moby Doc, Rob and I had two goals," said Moby.  "The first was to make a truly unique music film and the second was to make a film that's unabashedly honest and vulnerable."
Greenwich Entertainment has picked up the North American distribution rights to the feature documentary and will release it in theatres and digital platforms on May 28th. The biopic is narrated by Moby himself, who will reflect on his turbulent personal life and iconic music. From underground punk bands to a chart-topping solo artist, to struggling addict-turned vegan activist, the documentary will bare everything, warts and all.
"I've appreciated other public figures who've attempted to be honest, or who've been willing to be honest," Moby told the PA news agency. "Not even public figures, but just humans, friends of mine, or people I meet at AA (Alcoholics Anonymous) meetings, who are actually willing to be vulnerable, willing to be honest, and willing to openly discuss the things that so many people are either ashamed of or, work so hard to hide.
"We live in a culture where there's so much misrepresentation, you know, misrepresentation of who we are," Moby continued. "Oftentimes, the only time you find out that someone's struggling is after they've tried to kill themselves, or when they've killed themselves. The list is just endless, of people who you thought were living great lives, until all of a sudden, publicly, you realise they're despondent."
The documentary will tell the story of how a man with a traumatic childhood evolved to have an outstanding career. Moby narrates his story from his days in hardcore band, Vatican Commandos, to having a hit with the electronic-tinged Go. The film also features interviews with David Lynch, David Bowie, and Shepard Fairey, along with concert footage, blending re-enactments, interviews, and archival footage.
However, the man dubbed 'king of techno' then changed it up and made Animal Rights before leaving his record label Elektra. It was not until 1999 when his fifth album, Play, sent him stratospheric, in which every track was licensed to various commercials, movies and TV series.
Bralver has worked with Moby on a number of projects including a slew of videos. He also produced music doc Our Vinyl Weighs A Ton: This Is Stones Throws Records about the LA record label. Moby Doc was produced by Rob Bralver and Jeff Broadway (Living on Soul), with Moby as an executive producer. Marty Bales, Eric Harle, and Dave Tomberlin also chip in as co-producers to this in-depth documentary on the star's life.
Moby has released two memoirs in the past, – Porcelan: A Memoir and Then It Fell Apart, with the latter detailing his relationship he had with pre-famed Lana Del Ray. The star cancelled his UK and Irish book tours due to Natalie Portman's criticism of the star and denial of a relationship. Keep up to date with all new releases on his website, Moby.com.