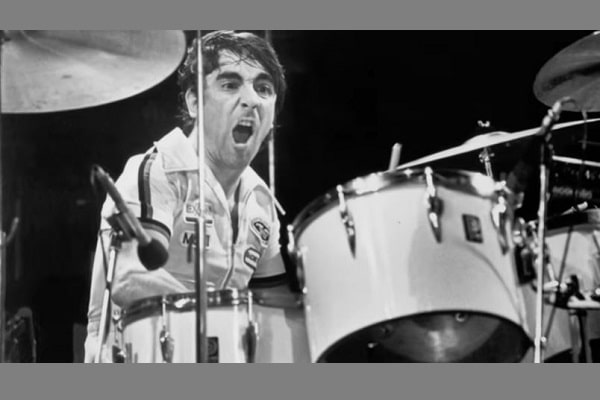 Shooting is set to begin on the long-awaited biopic of The Who drummer, Keith Moon, with plans kicking off in England this summer. Moon was a member between 1964 and 1978, before dying from an overdose of Heminevrin – a drug used to treat and prevent symptoms of alcohol withdrawal.
Provisionally called The Real Me – after the Quadrophenia song – and is set to be executive produced by Roger Daltrey and Pete Townshend. According to Variety, The Crown's Paul Whittington is looking increasingly likely to direct, while British screenwriter Jeff Pope penned the script.
The production company behind George Harrison: Living in the Material World and Ron Howard's Beatles documentary Eight Days a Week: The Touring Years is helming the production of the project. Although it is still unknown as to who will take on the roll of Moon, Daltrey previously stated that casting will need to be very specific – based on the actor's eyes.
Speaking with BBC 6 Music's Matt Everitt in 2018, Daltrey claimed he had to somehow "find a Keith Moon. It's going to be very, very dependent on the actor and the actor's eyes. Because you've got to cast it completely from the eyes because Moon had extraordinary eyes."
When Everitt suggested it may prove difficult to find an actor capable of playing a "musician" like Moon, Daltrey replied: "What makes you think Keith was a f****** musician? He would have said, 'How dare you, my boy! A musician? I'm a f****** drummer!'"
"They didn't really know Keith," he added. "I don't know whether anybody outside the band really got to know him like we did. He was a strange bunch of people."
With the Moon biopic now taking over a decade to assemble, Daltrey revealed that he had spent a long time searching for "the right screenplay". Meanwhile, The Who's career spanning documentary is available to stream for the first time. It is called Amazing Journey: The Story Of The Who, and can be streamed via the subscription service The Coda Collection.