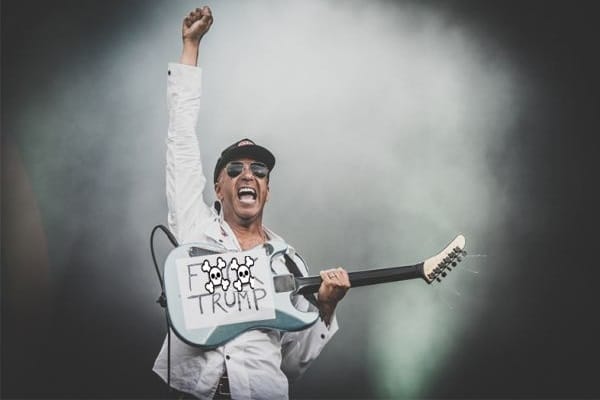 Just when you think you are beginning to understand the world, Tom Morello gets accused of having "white man privilege". Usually a man of many words, the Rage Against the Machine guitarist/activist gave a simple three-word response to his accuser; "I'm not white". Morello was accused of flaunting his white privilege when defending his relationship with heavy shredder, Ted Nugent.
The exchange took place after @TheRealNubian2 shared an article, in which Morello told The Howard Stern Show that he is friends with fellow guitarist Ted Nugent, despite The Nuge's notorious extreme right-wing views. Along with a link to the article, the user wrote, "Tom Morello's white man privilege is showing."
Morello told the story of his friendship with the Motor City Madman to Stern on his SiriusXM show earlier this week. Discussing the nomination process for the Rock and Roll Hall of Fame, Stern asked the question: Can you separate the artist from his politics? Stern then brought up the outspoken conservative Ted Nugent.
"You might be surprised to hear that Ted Nugent and I are good friends, someone I think that you could make an argument for [Nugent's nomination and induction to RRHOF].  For his 60th birthday, someone reached out to me and said, 'We're making a video, and we're asking guitar players [to say a few kind words].
"At the time, the Ted Nugent known in the world, in general, was this right-wing caricature. People were not thinking of him first and foremost as the guy who shredded on "Cat Scratch Fever,'" Morello continued.
@TheRealNubian2 identifies on Twitter as: "She/Her. Feminist SJW. Not an American but will talk s*** anyway". The user took to her social media platform to criticize Morello for his friendship with the guitarist, who espouses strong right-wing views.
Many who responded to the tweet pointed out how Tom Morello is in fact a son of an American mother of Italian and Irish descent and his father, Ngethe Njoroge, was a long-time Kenyan diplomat who served as the High Commissioner to the United Kingdom in the '70s. While others agreed with the tweet by criticizing the musician for remaining friends with Nugent.
Activist, Jim Keady joined in to say, "You know what is great about this? I am fairly certain that my friend and comrade, @tmorello, would go on the @TheRealNubian2's @NubiansPodcasts and discuss this exchange (and his friendship with Ted Nugent that sparked it) with revolutionary love and graciousness. I'd listen."
Morello responded to Keady's tweet with, "Anytime." Without skipping a beat, @TheRealNubian2 jumped on the opportunity to have the RATM guitarist on her show by replying, "Next week? Can I DM you for the details?"
Watch Morellos interview with Stern below:
Meanwhile, Tom Morello and Slash almost died at an Ozzy Osbourne concert, according to the Rage Against the Machine guitarist. Speaking this week with Howard Stern on SiriusXM, the guitarist spoke on how he, and the Guns n' Roses legend, came close to being set ablaze. Read here.