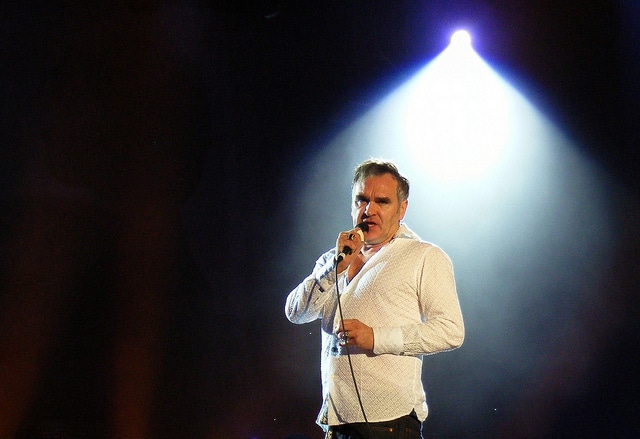 There is just never a dull moment when it comes to the English musician Morrissey, this time he was forced to run off the stage because he was being mobbed by fans.
Moz was just beginning his encore at a concert in Essen, Germany, when he fans began storming the stage trying to hug and kiss him.
The European leg of Moz's tour has been full of drama. At a concert in Lisbon, Morrissey's entire band wore t-shirts with the slogan "F**K HARVEST". The passive-aggressive stunt was aimed at his former record label Harvest Records, with whom he has fought with for most of the year.
Then he had to cancel a string of European tour dates in Switzerland and Germany, due to a "flu outbreak" amongst his crew.
And only last week, he walked off the stage in Warsaw, Poland because a fan was screaming abuse at him. It's not entirely clear what was said, there has been speculation that the fan may have made comments about Morrissey's recent battle with cancer.
In the footage of the incident, the Essen gig appears to be going well, with the audience applauding politely and roaring their approval.
Moz told the crowd: "Thank you. I've had a really good time anyway and I'd like to say thank you. In the words of the greatest Germans, 'Remember me, forget my fate'"
The drama starts when just a few seconds in to the song 'Every Day Is Like Sunday', fans begin to rush towards the frontman, leaving security struggling to hold them back.
Morrissey was ushered off stage by security personnel, as the crowd then begins to boo.
Watch footage from the gig below.
Morrissey arrives for his Dublin show at the 3Arena on December 1st, supported by Anna Calvi, we urge Irish fans to be kind to him.