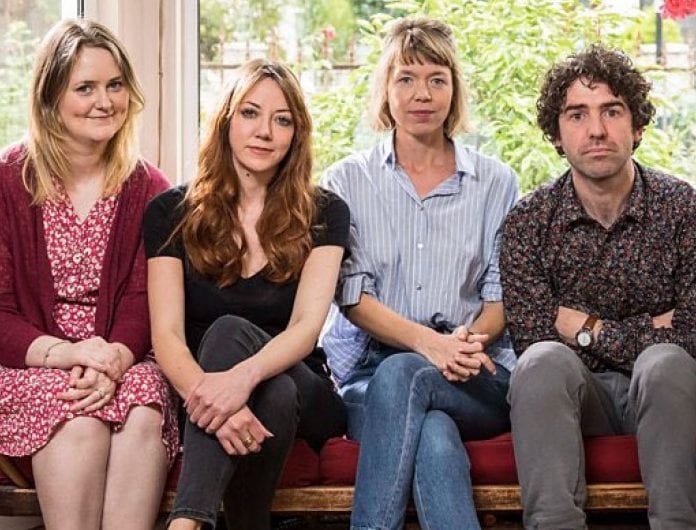 Irish duo Sharon Horgan and Graham Linehan have teamed up to create one of the most talked about comedy series to hit our screens in quite some time.
'Motherland' which is exclusive to the BCC, is a comedy piece surrounding the day-to-day lives of parents in the metropolis of London.
The show takes a refreshing warts and all look at the day-to-day reality of middle-class parenting and serves as a welcome antidote to the myriad unrealistic portrayals of parenthood, which have graced our screens over the years. No schmaltzy underlying message of familial love or unity here, thankfully.
The series comes with top-notch writing credentials; comic genius Graham Linehan (Father Ted, IT Crowd), Sharon Horgan (Catastrophe, Pulling, Divorce), Helen Linehan (Graham's wife) and stand-up comic Holly Walsh.
New on our blog @wiggywalsh on creating and writing #Motherland for @BBCTwo with @SharonHorgan @hellycake & #grahamlinehan https://t.co/L33DZ6Lvpm watch Ep 2 tonight at 10 or the whole series now @BBCiPlayer pic.twitter.com/I2YBBnQhqy

— BBC Writers (@bbcwritersroom) November 14, 2017
Our put upon protagonist Julia (Anna Maxwell-Martin) is teetering on the edge as she tries to juggle a full-time job alongside carpools and PTA fundraisers. Help isn't forthcoming from her own mother, who is reveling in the freedom of retirement.
Fellow mother Liz (Diane Morgan from the excellent Philomena Cunk) is the conduit for much of Horgan's acerbic and spiky writing. Liz has her own unique approach when it comes to planning kids birthday parties:
"Put four caterpillar cakes into one long human centipede; tell them you've hidden a pound in a room and they have to go search for it; then play Gangham Style and give them undiluted squash. They'll go fucking mental. It's all over by 4pm. Done."
Their group is rounded off by hapless, stay-at-home dad Kevin (Paul Ready) who regales the others with tales of his failed attempts to seduce his wife. As you do.
Need help getting your kids under control? Look no further… #Motherland 😂 (via @BBCComedy) pic.twitter.com/uUGcGIX0n0

— BBC Two (@BBCTwo) November 14, 2017
On top of the all these challenges the trio also have to contend with cliquish yummy- mummies and their ostensibly perfect parenting. Led by bi**hy queen bee Amanda (Lucy Punch), these two sets of polar opposite parents are destined to clash at the school-gates.
The children themselves are left on the periphery of the show while well-intentioned but ultimately unhelpful fathers don't get much of a look in either.
The parental experience is put centre stage of this sitcom and is all the better for it.
Have you seen Motherland yet? Does it live up to the hype?
Motherland, BBC2, Tuesday evenings 10pm.
Feature Image: BBC