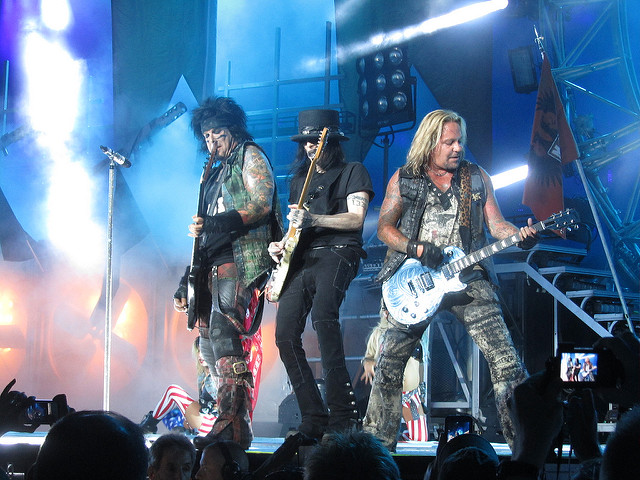 Motley Crue are reportedly being sued over merchandise sold on their Final Tour.
Photographers Neil Zlozower and Barry Levine claim the group have used images taken by them back in 80's without their permission.
They claim the images have been used on the groups official website and on various items at several concert venues during their farewell tour which wrapped up on New Years Eve of 2015.
A lawsuit was lodged at a US District Court in New York yesterday, which estimates €76 million has been made from the tour. It reads:
"In the 1980s, Zlozower and Levine photographed the members of the Motley Crue band at Zlozower and Levine's respective studios in Los Angeles. Zlozower and Levine used their own cameras, lighting equipment, film, batteries, backdrops, and accessories. Zlozower and Levine directed the band members as to where to stand, how to pose, and where to position… Defendants infringed Plaintiff's copyright in the Photographs by reproducing, publicly displaying, and selling the Photographs on merchandise. Defendants are not, and have never been, licensed or otherwise authorized to reproduce, publicly display, distribute, sell and/or use the Photographs on merchandise", Blabbermouth reports.
Zlozower and Levine are seeking profits from the merchandise featuring their images alongside damages and legal fees.
The band have yet to comment on the matter.
Photo Credit: Beanhammer