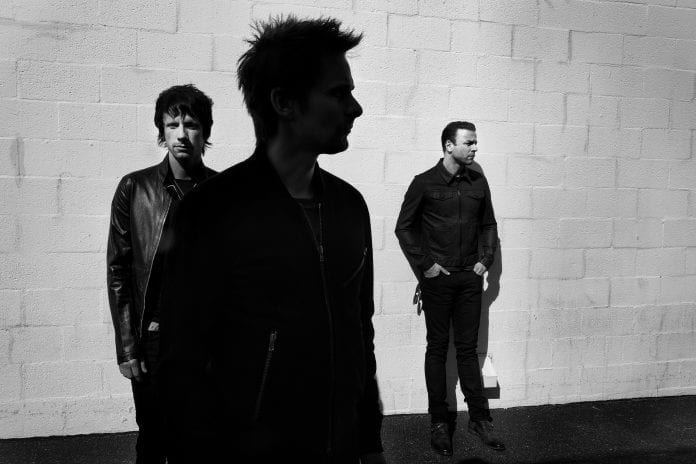 Calling all Muse fans!
The multi award-winning alternative rock band, Muse, have announced that their eight studio album, 'Simulation Theory', is scheduled to be released on November 9th, 2018.
Formed in 1999, the band have achieved unbelievable chart success since their self-titled debut album in 2004, and have since been performing in some of the biggest venues around the world. Kasabian have always strived to create a new musical language, and have succeeded in producing a distinctive sound that incorporates both indie guitar rock and sci-fi absurdity. Their new album, produced by Rich Costey, Mike Elizondo, Shellback and Timbaland, is inspired by multiple genres and sounds, with frontman Matt Bellamy stating: "We're getting into blending genres and eras together, both in the styles and in the music. It's an arena sound and synths."
NEW ALBUM: Muse have announced that their new studio album, Simulation Theory, will be released on 9 November 2018.

Pre-order through the band's Official Shop for early access to tickets for the 2019 tour: https://t.co/VhxvLEijmw

Artwork by Kyle Lambert // #SimulationTheory pic.twitter.com/5TuEV8sxlF

— muse (@muse) August 30, 2018
The album artwork, created by digital artist, Kyle Lambert, is reportedly influenced by the hugely successful series, 'Stranger Things', and showcases a magnificent display of contemporary sci-fi illustrations.
Check out the exquisite new tracks from their latest album, 'Simulation Theory' below:
Dig Down
https://www.youtube.com/watch?time_continue=79&v=b4ozdiGys5g
'Dig Down' was the first single released from the album in May 2017.
Thought Contagion
https://www.youtube.com/watch?v=QQ_3S-IQm38
Their second single, 'Thought Contagion', released in February 2018, is based on the concept that thoughts are contagious and distorted. Frontman Matt Bellamy stated: If you spend a few hours watching American news, well, that's were the first part of the song came from really. It's kinda like some strange bubble where they're all living up Trump's bum, basically… It gets inside your mind. I think that's where the song came from really. You start walking round worrying about things that you wouldn't normally think about and so the song came from that. How other people's ideas can kinda take over your own if you're not careful."
Something Human
https://www.youtube.com/watch?v=azAEHCQgcUI
Frontman Matt Bellamy admitted that both the song and video were influenced by the series, Teen Wolf, claiming: life on the road can bring out your inner beast, this song and video is about taming that beast, desiring a return to something human. Plus, Teen Wolf is cool."
The Dark Side
According to Bellamy, their latest single, 'The Dark Side', proves to be the band's favourite track on the album.
The band has promised to release more information shortly regarding their upcoming 2019 tour. Following the release of their hugely successful album in 2017, 'For Crying Out Loud', the band has been travelling worldwide and are fast proving that they are one of the world's most spectacular live acts. Muse have headlined at the world's biggest stages and festivals, so fans can expect an experience of a lifetime at one of the live highlights of 2019. The band are famous for their energetic and rocking performances, as well as their innovative and wild approach to live shows, which includes incredible spectacles, magnificent lighting, and wacky and wonderful costumes. Matt Bellamy has stated: "We're going to do the biggest tour and just blow people's minds with stuff they've never seen before. We're going to come up with something that no one's ever seen before. We're always interested in the latest technology and what's cutting edge, so we're always thinking of the new thing that nobody's ever used before in a concert. And we found something and we're going to use that."
Check out the track list for 'Simulation Theory' below:
Algorithm
The Dark Side
Pressure
Propaganda
Break It To Me
Something Human
Thought Contagion
Get Up and Fight
Blockades
Dig Down
The Void
Algorithm (Alternate Reality Version)
The Dark Side (Alternate Reality Version)
Propaganda (Acoustic)
Something Human (Acoustic)
Dig Down (Acoustic Gospel Version)