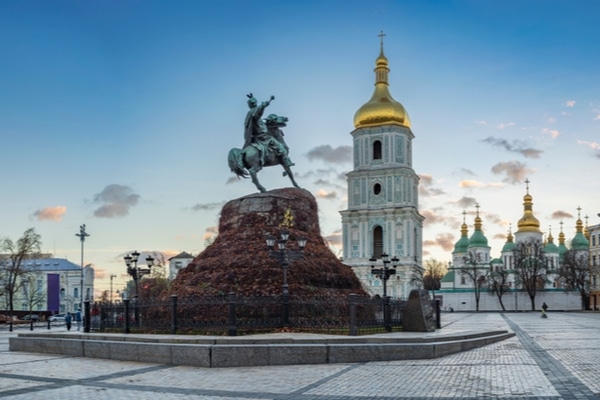 Members of the music and entertainment world have shared their feelings following the invasion of Russian forces on Ukraine in the early hours of this morning.
Their president Vladamir Putin ordered the attack on Ukraine who have stated that Putin had "launched a full-scale invasion of Ukraine".
Ukraine have subsequently severed ties with Russia and have also declared martial law.
It was also emerged that Russian military vehicles reportedly breached the Ukrainian border across a number of locations including Belarus. Air strikes on Ukraine's military were also reported.
Putin's actions, which he has called a "special military operation" have been received with widespread contempt from across the world.
Russian Invasion A "catastrophe for our continent"
Major world leaders Boris Johnson and Joe Biden have openly criticised the Russian invasion.
UK Prime Minister Johnson called the Russian invasion of Ukraine a "catastrophe for our continent".
He addressed the nation as well as spoken to to fellow G7 leaders.
Our mission is clear – diplomatically, politically, economically – and eventually, militarily – this hideous and barbaric venture of Vladimir Putin must end in failure. pic.twitter.com/nmFhpDrDEy

— Boris Johnson (@BorisJohnson) February 24, 2022
Meanwhile, US President Joe Biden also warned of "severe" sanctions for Russia. He added that Ukraine is "suffering an unprovoked and unjustified attack by Russian military forces".
He also stated that "Putin has chosen a premeditated war that will bring a catastrophic loss of life and human suffering".
"tinged with indescribable sadness"
The Russian invasion has also been met with strong condemnation from household names across the entertainment world.
Franz Ferdinand's Alex Kapranos, Amanda Palmer, Bring Me The Horizon's Oli Sykes, Yungblud, Foals Yannis Philippakis and others voiced their opinions on social media.
In a lengthy tweet, Alex Kapranos wrote, "My heart goes out to the people of Ukraine and I unequivocally condemn the invasion by the Russian state".
"I was fortunate enough to spend time in the beautiful cities of Kyiv and Odessa when I played there with our band. The people I met were warm and my fond memories are now tinged with indescribable sadness as I see what is happening".
He also added, "Ukraine posed no threat to Russia. Do not think that Putin intends to stop at its borders. It's the borders of the USSR at the very least which he is after", he continued. "I feel for the people of Russia too, particularly the people I have met over the years who I know are appalled by this action and know what the horrific consequences of this action are for them. For all of us".
"Ultimately this will be the end for Putin. At what horrific cost though?".
Check out other reactions below.
my heart is cracking. i know i have a few followers in russia, ukraine, poland, turkey and thereabouts. my love is going to everyone in your part of the world. it must be frightening.

we are here. if you need help, acknowledgment, a digital hug, words….we are here. talk to us. pic.twitter.com/7liFNlojdF

— https://home.social/@amandapalmer (@amandapalmer) February 24, 2022
im so devastated to see what's happening in the Ukraine right now. my prayers are with you.

— YUNGBLUD (@yungblud) February 24, 2022
Love & courage to all our friends in Ukraine. 🖤

— Yannis Philippakis (@YnnsPhilippakis) February 24, 2022