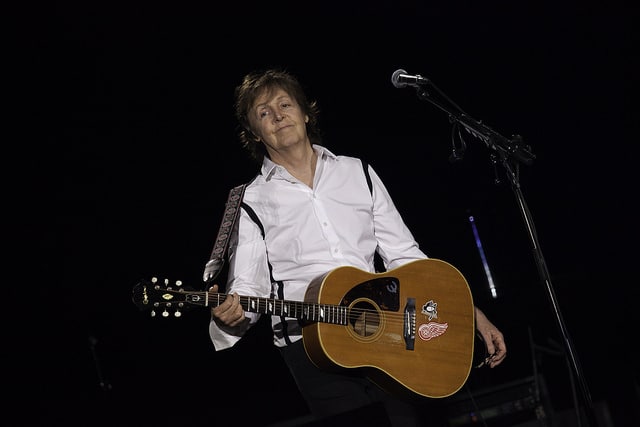 Paul McCartney has won nearly every accolade there is but still nothing beats the acceptance and admiration of your peers.
An all-star cast assembled for a McCartney covers compilation album, including the likes of Bob Dylan, The Cure and The Who's Roger Daltry.
The album titled The Art Of Paul McCartney, features songs spanning from the Beatles to Wings to his work as a solo artist. All of the artists contributing to the record put their own unique spin on McCartney's songs.
The covers record is a veritable who's who of fellow influential singer-songwriters including, Bob Dylan 'Things We Said Today', Brian Wilson 'Wanderlust', Willie Nelson 'Yesterday', The Cure ft James McCartney 'Hello Goodbye', Billy Joel 'Live And Let Die', BB King – 'On The Way', among many others.
The project has been in the works since 2003, producer Ralph Sall rounded together Macca's backing band, guitarists Rusty Anderson and Brian Ray, keyboardist Paul "Wix" Wickens and drummer Abe Laboriel Jr. and began recruiting potential singers.
Elsewhere on the album, Kiss covers both 'Venus & Mars' and 'Rock Show', Alice Cooper takes on 'Eleanor Rigby' and Roger Daltry belts out 'Helter Skelter'.
The first song to be released from the record is a take on the Beatles' 'Hello Goodbye", recorded by The Cure and Paul's son James.
Check out their version of Hello Goodbye below.
The full compilation is due out on November 18th
The Art Of Paul McCartney track list:
Billy Joel – 'Maybe I'm Amazed'
Bob Dylan – 'Things We Said Today'
Heart – 'Band On The Run'
Steve Miller – 'Junior's Farm'
Yusuf/Cat Stevens – 'The Long And Winding Road'
Harry Connick Jr – 'My Love'
Brian Wilson – 'Wanderlust'
Corinne Bailey Rae – 'Bluebird'
Willie Nelson – 'Yesterday'
Jeff Lynne – 'Junk'
Barry Gibb – 'When I'm 64'
Jamie Cullum – 'Every Night'
Kiss – 'Venus And Mars/ Rock Show'
Paul Rodgers – 'Let Me Roll It'
Roger Daltrey – 'Helter Skelter'
Def Leppard – 'Helen Wheels'
The Cure ft James McCartney – 'Hello Goodbye'
Billy Joel – 'Live And Let Die'
Chrissie Hynde – 'Let It Be'
Robin Zander & Rick Nielsen of Cheap Trick – 'Jet'
Joe Elliott – 'Hi Hi Hi'
Heart – 'Letting Go'
Steve Miller – 'Hey Jude
Owl City – 'Listen To What The Man Said'
Perry Farrell – 'Got To Get You Into My Life'
Dion – 'Drive My Car'
Allen Toussaint – 'Lady Madonna'
Dr John – 'Let 'Em In'
Smokey Robinson – 'So Bad'
The Airborne Toxic Event – 'No More Lonely Nights'
Alice Cooper – 'Eleanor Rigby'
Toots Hibbert with Sly & Robbie – 'Come And Get It '
BB King – 'On The Way'
Sammy Hagar – 'Birthday'
The limited edition vinyl boxset and deluxe boxset features the following eight extra tracks;
Robert Smith – 'C Moon'
Booker T Jones – 'Can't Buy Me Love'
Ronnie Spector – 'PS I Love You'
Darlene Love – 'All My Loving'
Ian McCulloch – 'For No One'
Peter, Bjorn & John – 'Put It There'
Wanda Jackson – 'Run Devil Run'
Alice Cooper – 'Smile Away'