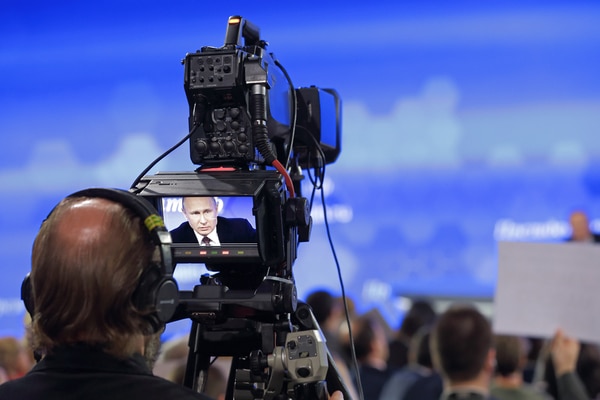 In light of the recent protests against Russia's invasion of Ukraine, the state owned Russian Media Group have issued a statement condemning these anti-war protests.
In the statement, they explained why they will no longer play such musicians on its popular music channels or radio stations.
"harsh statements"
In the statement, the Russian Media Group said the following.
"The reason for this decision was the harsh statements these musicians made towards Russia in the context of the difficult situation between Russia and Ukraine", they wrote.
They also insisted that respect for the listeners was their top priority. The group also blasted the "arrogant and contemptuous attitude of the musicians towards Russian listeners". 
Three Ukranian musicians and three Russian acts were singled out for criticism.
This included iconic Russian band Aquariam. The band's frontman is Boris Grebenshcikov, who has previously labelled the war "madness".
"I've spent half my life under some sort of ban", he said. "There were bans in the 70s, bans in the 80s – there's nothing unusual about it. Then the same people who ban you give you prizes". 
'Kyiv Calling'
Other protests also saw Ukranian punk group Beton release their own cover over of the Clash's 'London Calling'.
Titled 'Kyiv Calling', the track was recorded by the band in protest against this Russian invasion.
It was recorded in Ukraine's Western City of Lviv last week (March 17-18). The track was also mixed and mastered by Danny Saber who worked Clash frontman Joe Strummer until his death in 2002.
The video also includes footage shot by the band's family and friends across the Russian invasion of Ukraine. All profits from the song will also go towards the citizen-led organisations FURM (Free Ukraine Resistance Movement). See more here.
Check out the video below.
Stark Contrast
These protests from musicians appear in sharp contrast to artists who are pro-Russian and its president Vladimir Putin.
Last week, some artists performed live at a stadium concert, where Puting featured as the show's headline act.
The show also saw tens of thousands of Russian flags waved, and Pro-Russian slogans chanted. The event marked 8 years since Russia first invaded Ukraine and the annexation of Crimea.
However, many of them have claimed that they were pressured into attending the event.
Musicians have been reacting to this invasion worldwide. See what they have been saying here.