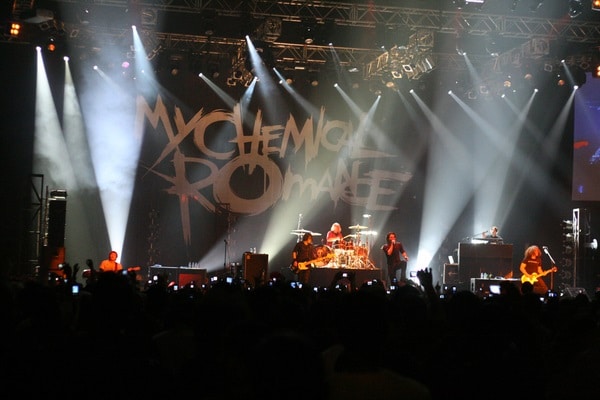 Ahead of their two shows in Dublin's Kilmainham Royal Hospital, My Chemical Romance paid a surprise visit to a famous guitar shop in the capital.
The band had already confirmed plans to perform two shows at the venue earlier this month.
Ahead of last night's gig, it emerged that some fans had even camped out for more than a day.
"They're a big band. They broke up back in 2012, that's when I first got into them so I just missed the opportunity", one fan said.
They also added, "I've been waiting about 10 years for the reunion. This will be their first Dublin show and my first time seeing them. I'm really excited".
"There's a group of very dedicated fans here. I'm number ten in the queue. These guys have all been to the gigs in the UK".
"I got here at 12pm today and I'll be here until Wednesday night. I've many more people joining me later on but I'm just the craziest".
"It's such a strong and creative community. It's beautiful people and I'm excited to meet more fans. It's amazing to see a band bring people together like this". 
Ahead of these two shows, with the first taking place last night, My Chemical Romance dropped into Some Neck Guitars on Dublin's Dean Street.
"nicest customers they ever had"
The band's frontman Gerard Way and rhythm guitarist Frank Lero paid a visit to the shop, with their owner Owen McQuail calling them the "nicest customers they ever had".
"An early start today with Gerard and Frank from My Chemical Romance here at Some Neck!", the shop also wrote on Facebook.
"Absolutely lovely guys to have in the shop ahead of their two nights at the Royal Hospital Kilmainham. It seems like the turn out is going to be massive!". 
Last week, My Chemical Romance also performed their first UK gig in 11 years, at Cornwall's Eden Park. See more on this here.