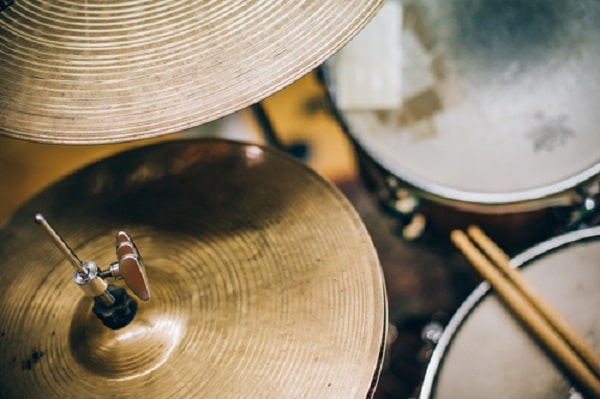 British schoolgirl, Nandi Bushell has been quite the sensation over the last few years. The ten year-old drummer came on to our screens and into our 'metal' hearts with a string of amazing videos on social media.
Nandi has been gaining recognition as one of rock music's little prodigies, thanks to her viral performances of classic rock songs. Some of her covers include songs from the Red Hot Chili Peppers, System of a Down, Lenny Kravitz, and Green Day.
After her latest video, a cover of Coldplay's 'Fix You', the rocker is yet again a social media trend. Nandi covered her drum set with florescent tape, as a nod to their impressive light displays, and gave an energetic performance in the video.
Nandi was so impressive, Coldplay drummer Will Champion shared the video on the band's own Instagram. Champion wrote: "This put a HUGE smile on my face, @nandi_bushell. Absolutely brilliant. Love WC X."
Bushell is no stranger to celebrities of the music industry. Last year, she played alongside Lenny Kravitz at London's 02 arena, jamming with him to his hit song 'Are You Gonna Go My Way?'. Speaking of the experience, she said it was the first famous person she had ever met. Since then, she has been lucky enough to have met other music legends such as Dua Lipa and Aloe Blacc.
Nandi has even entered into a rock battle with another legendary drummer in Dave Grohl. The pair have been challenging each other to play various songs.
The pint-sized drummer first issued a challenge to the Foo Fighters frontman on Twitter, calling Grohl to join her in the drum battle. Grohl, being Grohl, dutifully responded, playing 'Everlong' before challenging Nandi to learn Them Crooked Vultures' 'Dead End Friends'. Grohl also crafted a theme song for Nandi, enlisted his daughters, The Grohlettes, as backup singers and even produced an accompanying video.
The musical prodigy has already amassed a huge following online with over 50,000 YouTube subscribers, another 761,000 on Instagram and 180,376 on Twitter. One of her fans, Tom Morello gifted her his signature Fender Stratocaster.
Nandi uploaded her first YouTube video when she was just six years old. Drumming came to the young star from an early age. In an interview, she said: "When I was little, I just, whenever there was music on, I really liked Teletubbies and I'd always play in time." Nandi also plays other instruments such as the guitar, bass, and keyboard.
Bushell has been impressing music fans for years with her covers of top rock hits. Her cover of Nirvana's 'In Bloom' went viral and her performance of Queens Of The Stone Age's 'No One Knows' was lauded by the band.
The little musician could have a very exciting career ahead of her.