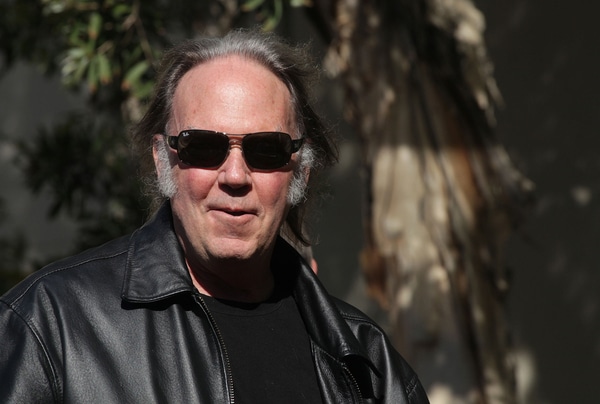 Neil Young has asked Spotify to remove his music "immediately."
The singer-songwriter has accused the music streaming service of "spreading false information" about COVID vaccines on some of its hosted podcasts.
On his personal website, Young shared a now-deleted letter to his management team of Lookout Management and Warner Bros. music in which he asked them to act "immediately" to have his material removed from Spotify.
"I am doing this because Spotify is spreading fake information about vaccines – potentially causing death to those who believe the disinformation being spread by them," he wrote. "Please act on this immediately today and keep me informed of the time schedule."
Young offered an ultimatum to Spotify, asking the service to choose between himself and controversial podcast host Joe Rogan, who has been accused of spreading misinformation throughout the pandemic.
"I want you to let Spotify know immediately TODAY that I want all my music off their platform," Young wrote. "They can have [Joe] Rogan or Young. Not both. With an estimated 11 million listeners per episode, JRE (Joe Rogan Experience), which is hosted exclusively on Spotify, is the world's largest podcast and has tremendous influence. Spotify has a responsibility to mitigate the spread of misinformation on its platform, though the company presently has no misinformation policy."
Last month Spotify received an open letter signed by 270 doctors, scientists and educators asking the service to remove Rogan's podcast.
"By allowing the propagation of false and societally harmful assertions, Spotify is enabling its hosted media to damage public trust in scientific research and sow doubt in the credibility of data-driven guidance offered by medical professionals," the letter read.
It's not the first time Young has criticised Spotify. In 2019 he temporarily removed most of his songs from the service, complaining about poor sound quality.
"That's where people get music," he said in 2019 of his decision to back down and return his music to Spotify. "I want people to hear my music no matter what they have to get through to do it. I'm just trying to make it so they hear a lot more and enjoy it a lot more, but sell it for the same price because music is music."
Young has been outspoken regarding his feelings on opponents of the vaccine.
"If we followed the rules of science, and everybody got vaccinated, we'd have a lot better chance," he said recently, accusing anti-vaxxers of "not being realistic."
Young has vowed not to return to live shows until the pandemic is over.