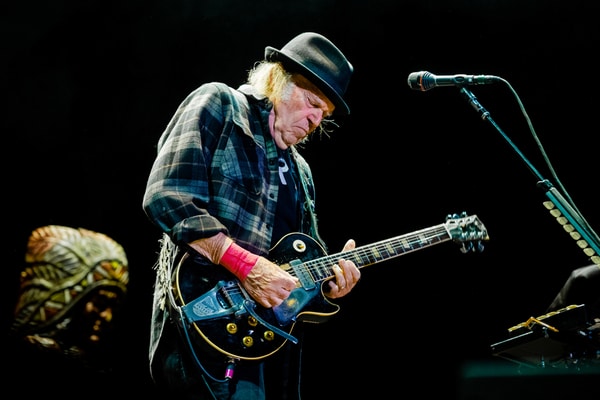 Having pulled his music from Spotify, Neil Young has offered fans a free four-month subscription to Amazon Music.
Young sparked a row with Spotify when he criticised the streaming service for hosting popular podcast The Joe Rogan Experience, claiming Rogan was spreading COVID misinformation.
The Canadian singer-songwriter issued Spotify an ultimatum, forcing the service to choose between himself and Rogan.
"I am doing this because Spotify is spreading false information about vaccines – potentially causing death to those who believe the disinformation being spread by them," Young wrote last week. "They can have Rogan or Young. Not both."
Spotify chose Rogan and so Young withdrew his library of music from the service.
Since leaving Spotify, Young has decided to promote Amazon Music, citing its superior audio quality. Taking to Twitter, Young tweeted a link to his catalogue on Amazon, which offers new subscribers four months free listening.
All folks looking for my music can easily head to AMAZON MUSIC and click here https://t.co/xvhKGMkA36 – all new listeners will get four months free. pic.twitter.com/a66GaGUKEk

— Neil Young Archives (@NeilYoungNYA) January 28, 2022
"Amazon has been leading the pack in bringing Hi-Res audio to the masses, and it's a great place to enjoy my entire catalog in the highest quality available," Young wrote.
Young also plugged rival services Apple Music and Qobuz.
"Thanks also to Apple Music (I LOVE APPLE) and Qobuz for sticking with my High Res music," he wrote.
Young's decision to leave Spotify prompted others to follow his lead, with his fellow Crazy Horse musician Nils Lofgren and Joni Mitchell also pulling their music. The Duke and Duchess of Sussex, Prince Harry and Meghan Markle, weighed in, saying they had contacted Spotify last year with concerns over vaccine misinformation.
Young's action has reportedly cost Spotify's market value to drop by as much $2 billion.
The streaming service has since announced that it will be adding a content advisory to podcast episodes that could be interpreted as promoting medical misinformation.
"This advisory will direct listeners to our dedicated COVID-19 Hub, a resource that provides easy access to data-driven facts, up-to-date information as shared by scientists, physicians, academics and public health authorities around the world, as well as links to trusted sources," Spotify announced in a statement. "This new effort to combat misinformation will roll out to countries around the world in the coming days. To our knowledge, this content advisory is the first of its kind by a major podcast platform."
Rogan has said he will attempt to bring a greater balance to the views expressed on his podcast.
"I don't always get it right," he said. "I will do my best to try to balance out these more controversial viewpoints with other people's perspectives so we can maybe find a better point of view."