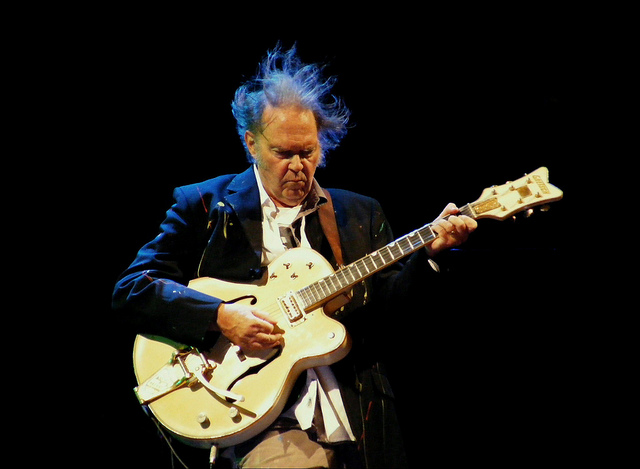 Neil Young will reissue four of his earliest albums on vinyl this September.
Reprise Records is undertaking the project and will release Young's 1973 Time Fades Away plus On The Beach from 1974 and both Tonight's The Night and Zuma from 1975 on September 6th.
Bernie Grundman Mastering, has updated the reissues from their original analogue to make them suitable for vinyl. The albums had been gathered as a limited edition set for 2014's Record Store Day, but this announcement confirms their first standalone release in years.
All four are considered by many as the most sought after and showcase Young's most influential work. Time Fades Away, which is particularly hard to come by, features live recordings from his 1972 'Harvest' tour which had been backed by the Stray Gators.
On The Beach lost it's last vinyl release in 1981 and only made it to CD release in 2000. The bulk of Tonight's The Night was created in grief as Young mourned the loss of Crazy Horse guitarist Danny Whitten and close friend Bruce Britten. While Young's seventh studio album, Zuma, gave credit to Crazy Horse and features former bandmates Crosby, Stills and Nash.
See The Tracklists Below:
Time Fades Away (1973)
Time Fades Away
Journey Thru The Past
Yonder Stands The Sinner
L.A.
Love in Mind
Don't Be Denied
The Bridge
Last Dance
On The Beach(1974)
Walk On
See The Sky About To Rain
Revolution Blues
For The Turnstiles
Vampire Blues
On The Beach
Motion Pictures
Ambulance Blues
Tonight's The Night (1975)
Tonight's The Night
Speakin' Out
World On A String
Borrowed Tune
Come On Baby Let's Go Downtown
Mellow My Mind
Roll Another Number
Albuquerque
New Mama
Lookout Joe
Tired Eyes
Tonight's the Night
Zuma(1975)
Don't Cry No Tears
Danger Bird
Pardon My Heart
Lookin' For A Love
Barstool Blues
Stupid Girl
Drive Back
Cortez The Killer
Through My Sails