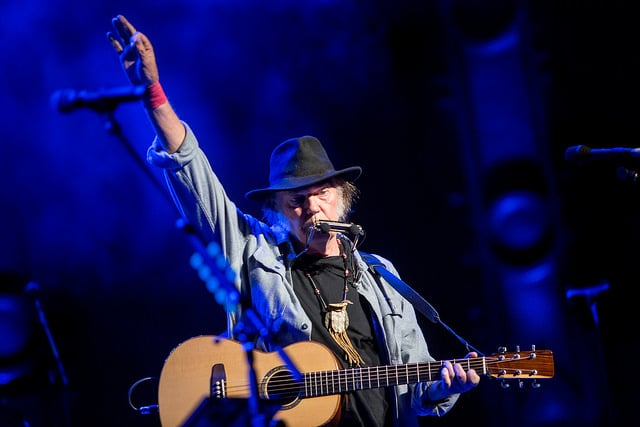 Neil Young has never been one to lack any energy but it appears that he is "energised" by working on his new album. Young is currently working on a follow up to The Monsanto Years which came out last year.
The new album which is still untitled is set to release later this year in June. Young will be teaming up once again with The Promise of The Real who he recorded his previous album with. The band is fronted by Micah and Lukas Nelson – sons of country star Willie Nelson.
Speaking about the new album in an interview with Rolling Stone, Neil Young said "I'm very happy with what I'm doing. I don't know what its place is in the world, but I like it."
He continued saying "I feel really good and amped and energised – and I feel like I'm doing something that I've never done before. It's not just music, it's a soundscape. It's kind of like flying around listening to things with your eyes closed."
Speaking about the recording sessions he said "It's like a live show, but it's not like a live show. Imagine it's a live show where the audience is full of every living thing on Earth – all of the animals, insects, amphibians, birds and everybody – we're all represented." It certainly sounds very unique, hopefully we will hear some more news about the new Neil Young album very soon.
Photo Credit: kris krug