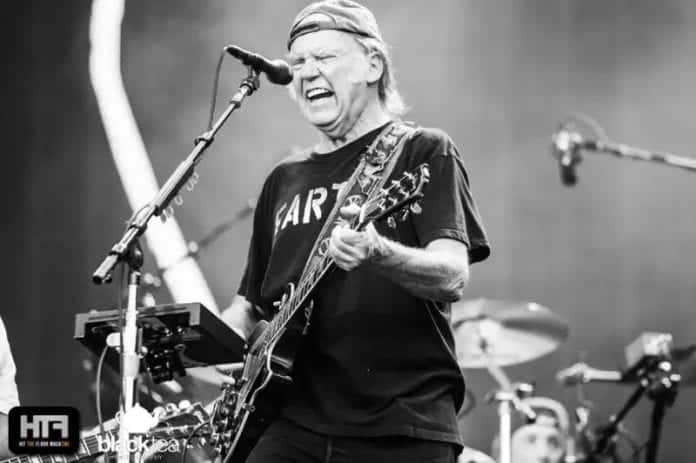 Reprise Records have re-released Neil Young's classic triple-LP compilation Decade.
The remastered reissue, is now available as a two-CD set, in the original three-LP configuration and as a digital download.
Decade was the first Neil Young compilation dedicated to his own career. It contains 35 of Young's songs recorded between 1966 and 1976, among them five tracks that had been unreleased up to that point. It peaked at No. 43 on the U.S Top Pop Albums chart, and was certified platinum by the RIAA in 1986.
Initially, the compilation was to be released in 1976, but was pulled at the last minute by Young. It was shelved until the following year, where it appeared with two songs removed from the original track list (a live version of 'Don't Cry No Tears' recorded in Japan in 1976, and a live version of 'Pushed It Over the End' recorded in 1974. Also removed were Young's handwritten liner notes for the tracks.
Decade, was a must for serious music fans for years especially since it remained the only Neil Young compilation on the market until 1993's Lucky Thirteen. Added to it importance and appeal was the fact it had been out of print for years. A vinyl version was released earlier this year for Record Store Day in a limited pressing.
The classic LP is now available to buy. Purchase Decade on CD or vinyl.
You can have a look at Decade's awesome track listing below.
Neil Young, 'Decade' Track Listing
DISC 1:
1. Down to the Wire
2. Burned
3. Mr. Soul
4. Broken Arrow
5. Expecting to Fly
6. Sugar Mountain
7. I Am a Child
8. The Loner
9. The Old Laughing Lady
10. Cinnamon Girl
11. Down By the River
12. Cowgirl In the Sand
13. I Believe In You
14. After the Gold Rush
15. Southern Man
16. Helpless
DISC 2:
1. Ohio
2. Soldier
3. Old Man
4. A Man Needs a Maid
5. Harvest
6. Heart of Gold
7. Star of Bethlehem
8. The Needle and the Damage Done
9. Tonight's the Night (Part 1)
10. Tired Eyes
11. Walk On
12. For the Turnstiles
13. Winterlong
14. Deep Forbidden Lake
15. Like a Hurricane
16. Love Is a Rose
17. Cortez the Killer
18. Campaigner
19. Long May You Run
Photo Credit: Graham Berry