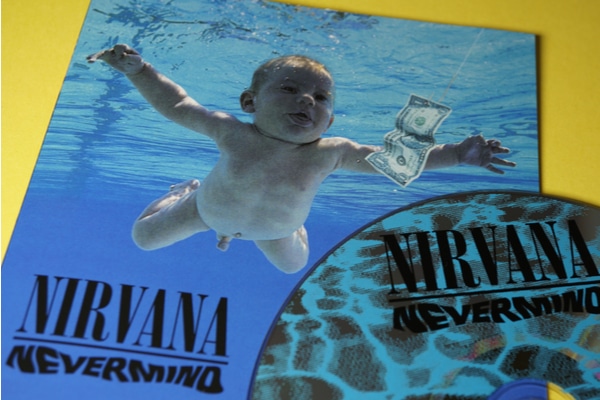 It has emerged that the lawsuit submitted by Spencer Elden who was used in the cover photo of Nirvana's Nevermind album, has been amended to include diary entries from the late Kurt Cobain. Cobain died tragically by suicide in 1994.
Spencer Elden was just four months old when his naked body was used on this album. Now aged 30, Elden is also suing Nirvana's band members including the estate of Cobain for child sexual exploitation.
More on that here.
The Lawsuit
This lawsuit which was amended, was filed before a court in Los Angeles on November 22. It also states that photographer Kirk Tweedle who snapped this cover image, also allegedly took unused snaps of Elden dressed as Playboy tycoon Hugh Hefner. This took place after the photo shoot.
The lawsuit said, "Weddle soon after produced photographs of Spencer dressed up and depicted as Hugh Hefner". 
"twisted vision"
When news of Elden's lawsuit first emerged, it was largely dismissed as a "firvolous act".
Since then, Elden has included entries from Kurt Cobain's diary in this latest lawsuit.
The lawsuit claimed that diary entries include sad and graphic passages like, "In several instances, the journals describe Cobain's twisted vision for the Nevermind album cover, along with his emotional struggles: 'I like to make incisions into the belly of infants then f**k the incision until the child dies". 
This lawsuit include former Nirvana band members Krist Novoselic, Dave Grohl, along with Courteney Love, Kurt's widow. Elden is allegedly demanding $150,000 from each party involved.
Elden also claimed that his guardians never "ever signed a release authorizing the use of any images of Spencer or of his likeness, and certainly not of commercial child pornography depicting him".
On top of this, Spencer Elden has also asked for future Nevermind covers to be redacted in the future. More on that story here.