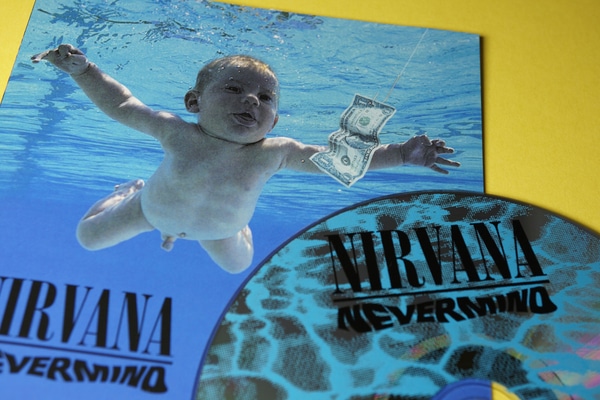 On top of suing the remaining members of Nirvana and Kurt Cobain's estate for "child sexual exploitation" in their use of the album cover for "Nevermind", Spencer Elden now wants the album art altered for any future releases, according to his lawyer.
Lawsuit against Nirvana
Elden claims he was the naked baby used in the album cover. He is suing Dave Grohl and Krist Novoselic. He is also suing the estate of the late Kurt Cobain.
The lawsuit also says that by using this image, the band have violated federal child pornography laws. It also alleges that Elden has suffered "lifelong damages" and "injuries" following the release of the album cover and it's global success.
The filing also said that, "Neither Spencer nor his legal guardians ever signed a release authorizing the use of any images of Spencer or of his likeness".
Along with Grohl and Novoselic, the photographer who snapped the image, album designer and both record labels are also being sued by Elden. He is also demanding $150,000 from each party.
"entire world not to see his genitals"
In new comments stated to the press, Elden's lawyer said "If there is a 30th anniversary re-release, he wants for the entire world not to see his genitals".
Maggie Mabie also said that they are "asking for Nirvana to do what Nirvana should have done 30 years ago". They want images of Elden's genitalia off future covers of the album.
Mabie also said that Cobain had agreed to redact the image in the lawsuit. He allegedly agreed to put a sticker on the album cover.
"If you're offended by this, you must be a closet pedophile", the sticker read.
Nirvana have yet to comment on the situation.
Mabie did accept that her client did agree to recreate the photo as an adult. But she said he eventually realised that this only led to the "image of him as a baby being further exploited".
In 2008, Elden had called it "kind of creepy" that so many people have seen him naked. "I feel like I'm the world's biggest porn star", he added.
Back in June, Krist Novoselic had hinted that the "Nevermind" album could get reissued for its 30th anniversary. More on that here.