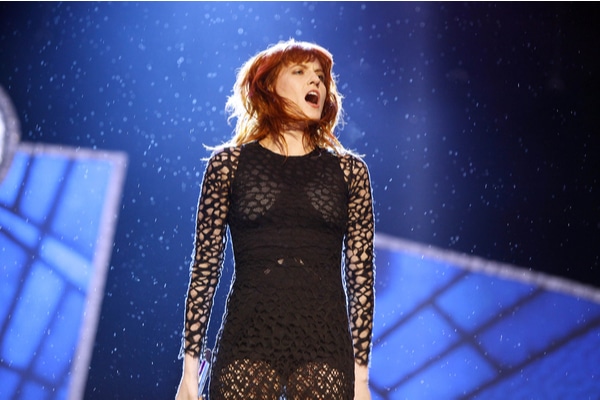 Florence + The Machine's latest album is on the way!
Titled 'Dance Fever', the album will arrive on May 13 and is the band's fifth studio album.
The album also includes previously released tracks, 'Heaven Is Here', and 'King', along with their new track 'My Love'. All music videos were directed by Autumn de Wilde.
Dance Fever is a follow up to Florence + The Machine's 2018 album 'High As Hope'.
Speaking recently on 'Heaven Is Here', lead singer Florence Welch had revealed that it was the first track she wrote during lockdown.
"I wanted to make something monstrous", she said. "And this clamour of joy, fury and grief was the first thing that came out".
"With dance studios also shut it was my dream to one day create choreography with it", Florence added. "So it's one of the first pieces of music I have made specifically with contemporary dance in mind". 
"the tragic heroines of Pre-Raphaelite art"
Dance Fever was recorded by the band's singer Florence Welch during the pandemic. She also recorded this album with Jack Atonoff and Glass Animals' Dave Bayley.
It has been reported that the concept of choreomania was a particular fascination of Welch's when she made this album.
According to a press release, the singer had reportedly taken lyrical inspiration from "the tragic heroines of pre-Raphaelite art, the gothic fiction of Carmen Maria Machado and Julia Armfield, the visceral wave of folk horror film from The Wicker Man and The Witch to Midsommar".
Calling it a "fairytale in 14 songs", Florence Welch confirmed the news regarding this album via her Instagram account.
However, she did not confirm a release date or track list. See the post in full here.
Florence + The Machine have kept quite busy despite the restrictions of the pandemic. Last May, it was announced that the band were set to perform the Disney soundtrack for 'Cruella'. More on that here.