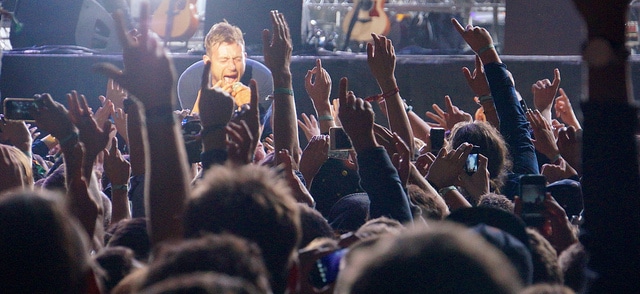 Blur's frontman Damon Albarn can never be accused of being lazy, often juggling several projects at once, now he's ready to add a musical to his bulging resume.
The singer has written a new musical titled 'Wonder.land', it's based on the children's story 'Alice In Wonderland' and will premiere this July in England.
Albarn will be collaborating with director Rufus Norris. He explained that the project has taken on a life of its own and has become a full blown "mainstream musical" for children and parents.
The official debut performance will be at Mancherster's Palace Theatre, as part of this summer's Manchester International Festival.
We don't know how the Gallagher brothers feel about the Londoner launching his musical in their hometown, hopefully they won't be too upset, seeing as Noel has already laughed off the idea of an Oasis musical.
Lewis Carroll's classic tale 'Alice In Wonderland' is celebrating its 150th anniversary. 'Wonder.land' is set in a world where "you can be exactly who you want to be".
The story follows a 12-year-old named Aly, who "loves this extraordinary virtual world. Bullied at school and unhappy at home, wonder.land lets her escape from her parents, from teachers, from herself".
A description online says: "Aly becomes Alice: brave, beautiful and in control. But some of the people she meets – the weird Dum and Dee, the creepy Cheshire Cat, the terrifying Red Queen – seem strangely familiar. As hard as Aly tries to keep them apart, real life and wonder.land begin to collide in ever more curious and dangerous ways."
Speaking about fable, Albarn said: "I'm fascinated by the idea of going down a rabbit hole, the otherwordliness and what that might mean. Alice aside, The Queen of Hearts, The Duchess, White Rabbit, Caterpillar were the most threatening characters of my childhood. I was genuinely very frightened of them as a kid."
Wonder.land premieres in Manchester's International Theatre on July 2nd, before heading down to London and Paris.